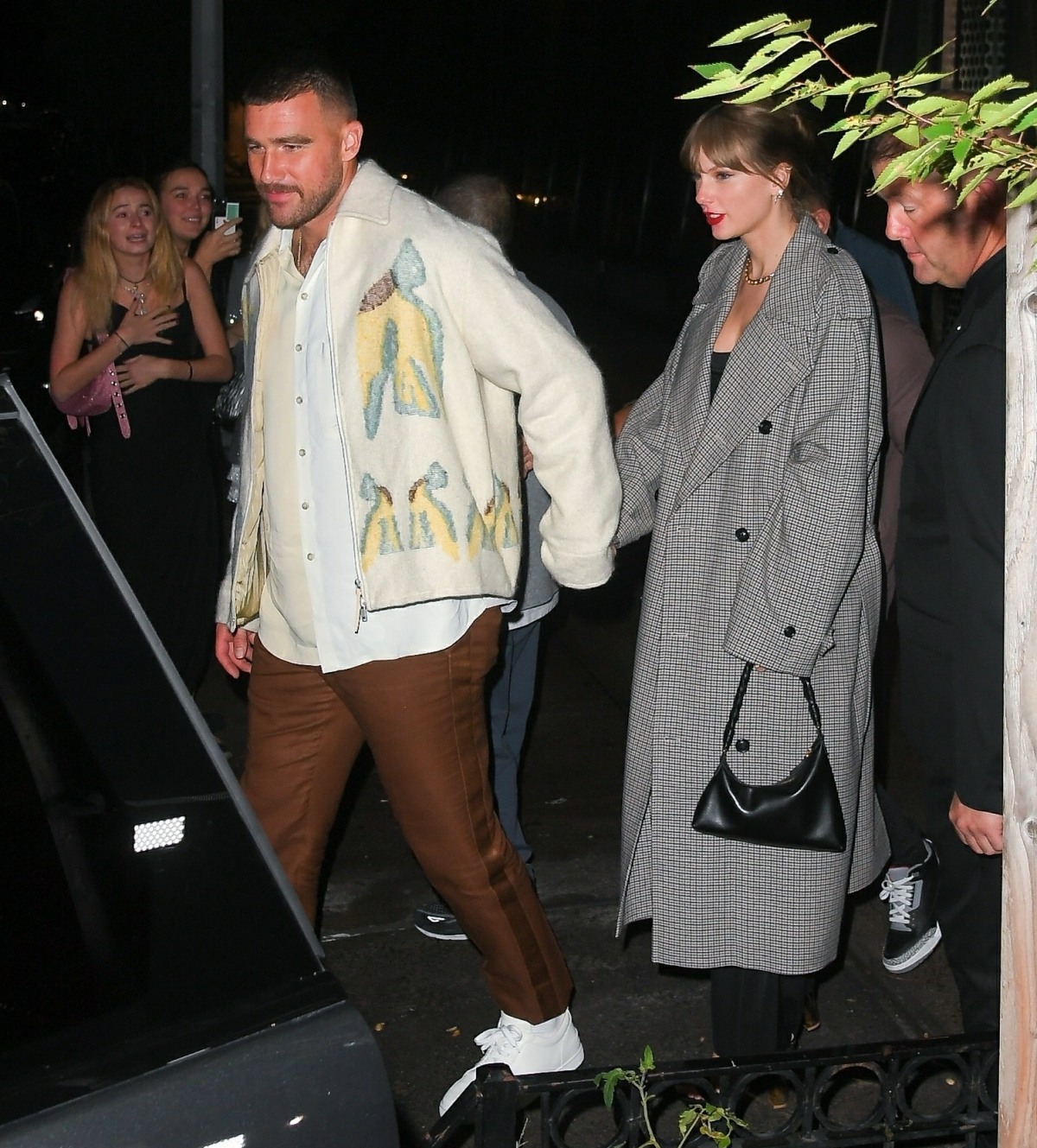 I love Taylor Swift and her team's brief little updates to People Magazine. Team Swift has been doing it for a while and I appreciate that they're pretty matter-of-fact about it. We saw it a lot in the six-week "romance" with Matt Healy too – Team Swift tried hard to stay on top of the narrative via casual briefings to People, and then when Swift and Healy broke up, the briefings were "it was never that serious anyway, you guys overreacted!" I remember! Anyway, Team Swift wants us to know that Taylor and Travis Kelce are getting very serious about each other.
It seems like romance is "burning red" between Taylor Swift and Travis Kelce. A source tells PEOPLE that things are getting "more serious" between the "Cruel Summer" singer, 33, and the Kansas City Chiefs tight end, 34.

"It's quickly turning more serious. They share a strong work ethic and have a huge appreciation for life and their careers, strong family bond and values," says the source.

Kelce is also "sweet, goofy and just a blast to be around," adds the source.
[From People]
Let's admit it – Travis is perfect for Taylor. He IS goofy and kind and that man is genuinely trying to woo her and show her that he's serious and locked in. That's also the reason why I keep wondering if Taylor will find a way to sabotage herself or the relationship. It's simply too perfect and it's clear that Travis is zero-drama and very into her. It's like Tom Hiddleston all over again. Meanwhile, Travis's dad Ed gave yet another interview, and this time he praised Taylor for understanding that Travis needs his rest.
"I think she's very genuine," he told Entertainment Tonight Wednesday, calling Swift "so grounded." He also thinks their relationship is "just great."

"They're two wonderful people and they are enjoying each other's company and supporting each other," he said, noting that "this is a rough time for either one of them to have a relationship. She's in the middle of this ginormous tour, he's knee-deep [in the NFL season]. At least he takes his just as serious as she takes hers as far as commitment to their craft."

And, importantly, that means a commitment to letting Travis take a nap. "I think she realizes how committed Travis is to sleep, 10 hours a day, when your body is going through this kind of thing," Ed Kelce said. "So I think they're both very supportive."
[From Vanity Fair]
The sleep thing is something I've noticed a lot recently, where athletes casually talk about sleeping for nine, ten, eleven, maybe even twelve hours a day. Tennis players have started talking about it more (which is how I trendspotted it!) and there's one 20-year-old tennis player who honestly tries to get up to 13 hours of sleep a day because he thinks sleep is the best restorative method for his body. Maybe athletes have always been like that, but it does feel like it's some kind of trend and now elite athletes are like "yeah, part of my recovery is a mandatory three-hour nap every day." Honestly, goals. I wonder if Travis and Taylor take naps together. OMG, imagine Travis taking catnaps WITH Taylor's cats Benjamin, Olivia and Meredith.
Taylor didn't attend last night's Chiefs game in Denver… and the Chiefs lost. After the game, Denver played Swift's "Shake It Off" while Broncos fans celebrated. Ouch.
Note by CB: Get the Top 8 stories about Taylor Swift and Travis Kelce's new relationship when you sign up for our mailing list! I only send one email a day on weekdays.
— Barstool Sports (@barstoolsports) October 29, 2023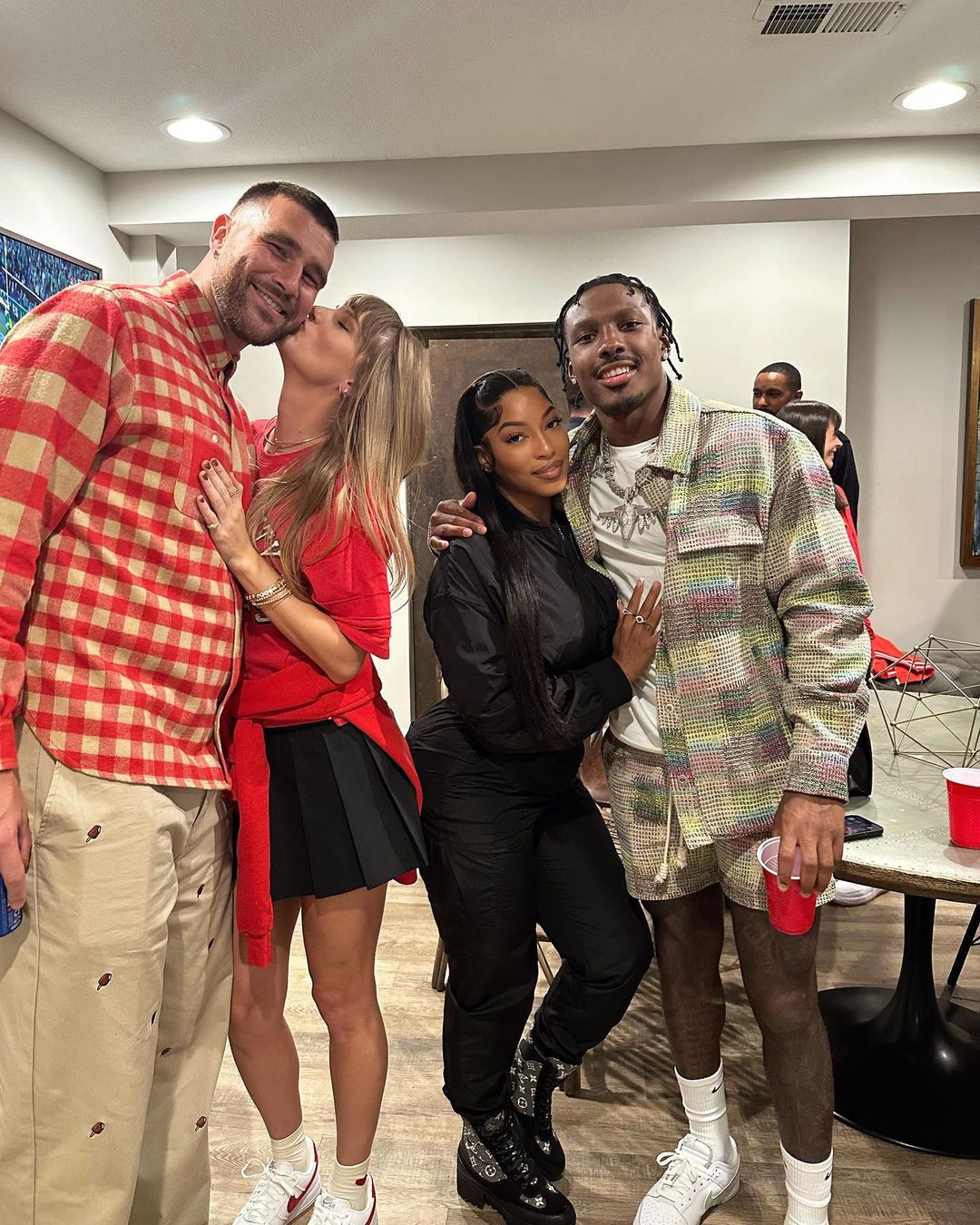 Photos courtesy of Instagram and Backgrid.
Source: Read Full Article