After his former 'Star Trek' co-star labeled him 'a guinea pig' and deemed him 'unfit' for boarding Jeff Bezos' Blue Origin rocket, William hits back by bringing up his old feud.
AceShowbiz – William Shatner and George Takei apparently have no intention to bury the hatchet between them. The two acting vets' old feud was reignited after the former Hikaru Sulu depicter made harsh comments on his former "Star Trek" co-star's space flight, and now the latter has clapped back.
Taking to his Twitter account, the 90-year-old blasted Takei for "spewing hatred" by trash talking him and his space travel. "Don't hate George," so he tweeted on Friday, October 15. Insinuating that Takei was only jealous of his fame, the former Captain James T. Kirk depicter added, "The only time he gets press is when he talks bad about me."
Shatner continued bringing up their decades-old beef as claiming, "He claims 50+ years ago I took away a camera angle that denied him 30 more seconds of prime time TV. I'm giving it back to him now by letting him spew his hatred for the world to see! Bill the [pig emoji]."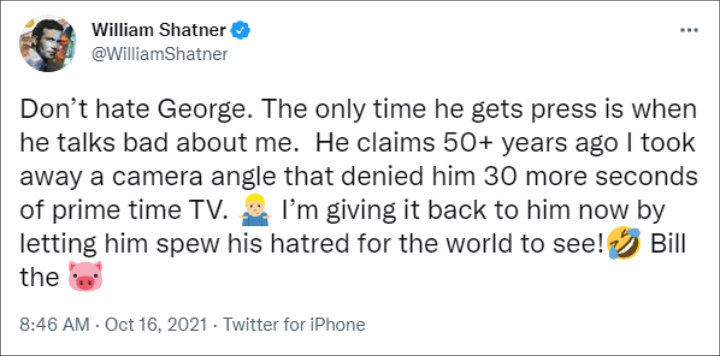 William Shatner hit back at George Takei's harsh comments on his space flight.
Takei previously called Shatner "a guinea pig" and deemed him "unfit" for boarding Amazon boss Jeff Bezos' Blue Origin rocket. "He's a guinea pig, 90 years old and it's important to find out what happens," so the 84-year-old said of his former co-star, who made history as the oldest man in history to travel into space.
He added of Shatner, "So 90 years old is going to show a great deal more on the wear and tear on the human body, so he'll be a good specimen to study. Although he's not the fittest specimen of 90 years old, so he'll be a specimen that's unfit!"
In the past, Takei has accused Shatner of ignoring him on the set of "Star Trek" and of changing the script for 1989's "Star Trek V", so his character, Hikaru Kato Sulu, would never become a spaceship commander.
Source: Read Full Article