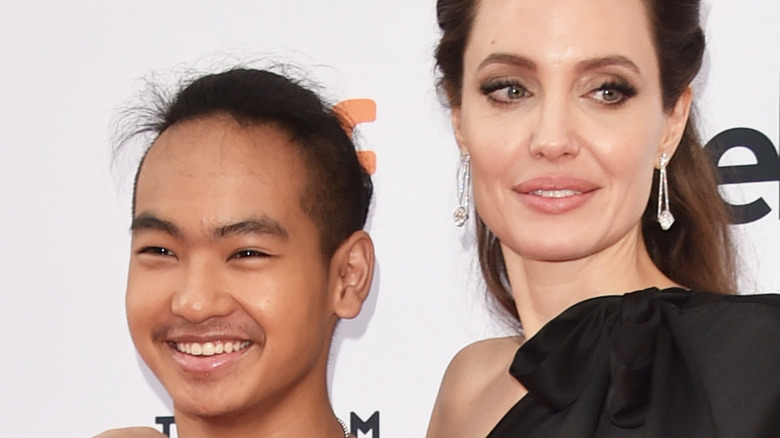 If you're reading this it's unlikely you need an introduction to Angelina Jolie. After all, she has been referred to as "the most famous actress in the world, according to Insider. 
Daughter of actor Jon Voight, she went from small films like "Hackers" to being an internationally-respected actress and activist. The transformation from Academy Award-winning actress to world-renowned humanitarian began in Cambodia where she was filming the blockbuster "Lara Croft: Tomb Raider" franchise. Another journey began there in Cambodia: her journey to becoming a mother. Maddox, the "Eternals" star's eldest child, was adopted from an orphanage in Cambodia in 2002, shortly after Jolie had been named UNHCR Goodwill Ambassador for her work with refugees, per UNHCR.
It is much less likely you've heard of Elizabeth Jacobs, though that may soon change. She wasn't a household name in 2002, having been adopted herself from Cambodia in 2000. Now she's a young director whose first feature-length documentary titled "Stolen Children" is making waves (via Daily Mail). The film follows Jacobs' return to Cambodia 21 years later armed with nothing but a desire to, as she told Shoutout LA, "uncover the truth about my adoption and whether or not I was involved in the baby trafficking scandal that happened exactly the same time I was adopted." This is where the Jolie and Jacob's paths intersect, and it appears the superstar may be caught up in the wave created by the young documentarian.
This woman's court case decision pulled in Angelina's child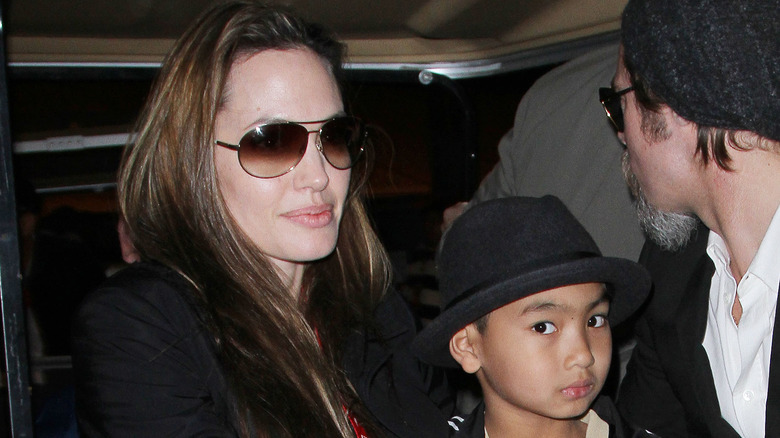 The question of how the two women are connected begins with the adoptions themselves. In 2004 a woman named Lauryn Galindo, who had facilitated adoptions of Cambodian children spanning over a decade, was handed down a prison sentence after pleading guilty to charges of conspiracy to commit visa fraud and money laundering (via ABC News). 
The charges stemmed from something much darker, the accusation that she "stole" children from vulnerable women. Allegedly, some women were coerced to give up their child with promises of thousands of dollars from rich American parents but who reportedly received far less including amounts reported to be as low as $15 or even a bag of rice. 
Meanwhile, Galindo got rich as the former hula dancer owned multiple homes around the world including a lavish property in Hawaii, as reported by ABC News. Essentially, Galindo put hundreds of Cambodian children in the hands of American parents. Among the trafficked are both Jacobs and allegedly the "Mr. and Mrs. Smith" star's son Maddox, according to The Sun.
There are now questions surrounding the adoption of Maddox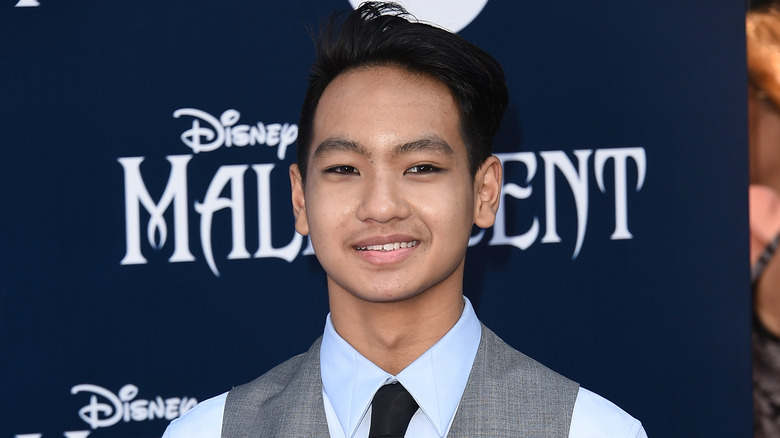 Lauryn Galindo operated in murky waters, the result of which has cast suspicion on all the adoptions she oversaw, reportedly half of all Cambodian adoptions during that time (via Daily Mail). 
Despite there being no specific evidence of any wrongdoing by the "Maleficent" actress or the other unsuspecting parents who believed Galindo's stories about the pasts of the children they were adopting, questions remain about the validity of the adoptions themselves (via Radar Online).
This is not the first time questions have been raised specifically about Maddox's adoption. In 2017, Cambodian charity aid director Mounh Sarath told The Sun he had claimed on paper to be Maddox's father to assist the actress saying, "She had to change his name, so the only way was for me to do it. I said he's my son." The Sun reports there is no evidence Angelina Jolie or her then-husband actor Billy Bob Thorton had knowledge of any false paperwork. 
The actress has maintained her son's past was researched and that he was not one of the "stolen" children and reportedly has said, "I would never rob a mother of her child. I can only imagine how dreadful that would feel."
Source: Read Full Article