Trent Jordan Watt better known as "T. J." Watt is an outside linebacker for the Pittsburgh Steelers. Watt, who is the younger brother of J.J. Watt and Steelers teammate Derek Watt, has been a defensive force on the team that selected him in the first round of the 2017 NFL Draft since his rookie season. On Sept. 9, 2021, the team rewarded him with a four-year $112 million contract, of which $80 million is guaranteed.
But that's not the only thing Watt has to smile about. In 2021, he also got engaged to his girlfriend Dani Rhodes. Read to find out more about his fiancée and what her connection is to Watt's sister-in-law.
How long they've been together and when they got engaged
Watt and Rhodes are college sweethearts. She enrolled in the University of Wisconsin in 2016 and some of her time in school overlapped with Watt's time there before he entered the NFL. The couple dated for several years and announced via Instagram that they were engaged on July 9, 2021.
"I am the luckiest man in the world!" Watt captioned his post. While Rhodes posted "YES, YES, YES" along with her photo. In another series of engagement shots she wrote: "It still feels like I'm dreaming. Woke up today feeling so incredibly happy and blessed that I get to marry my best friend. I can't wait to love you FOREVER!"
TMZ reported that the ring Watt proposed with features "a 2.5-carat flawless colorless triple EX graded diamond — which is very rare — and has 18k of white gold with 1.33 carats of VVS-flawless diamonds in the band. All total… the ring is valued at $100K."
What is Rhodes' profession?
Rhodes is from Waukesha, Wisconsin, which is about a half hour from Watt's birthplace of Pewaukee, Wisconsin. Like her future hubby, she has two brothers and is an athlete as well. She's a professional soccer player and was on the Chicago Red Stars of the National Women's Soccer League before playing the sport for an Icelandic team.
Rhodes had an impressive collegiate career too. During her final year with Wisconsin she scored 13 goals, earned All-Big Ten First Team honors, was named Big Ten Forward of the Year, and was voted to the coach's All-America team.
She also has a large presence on social media boasting more than 45,000 Instagram followers.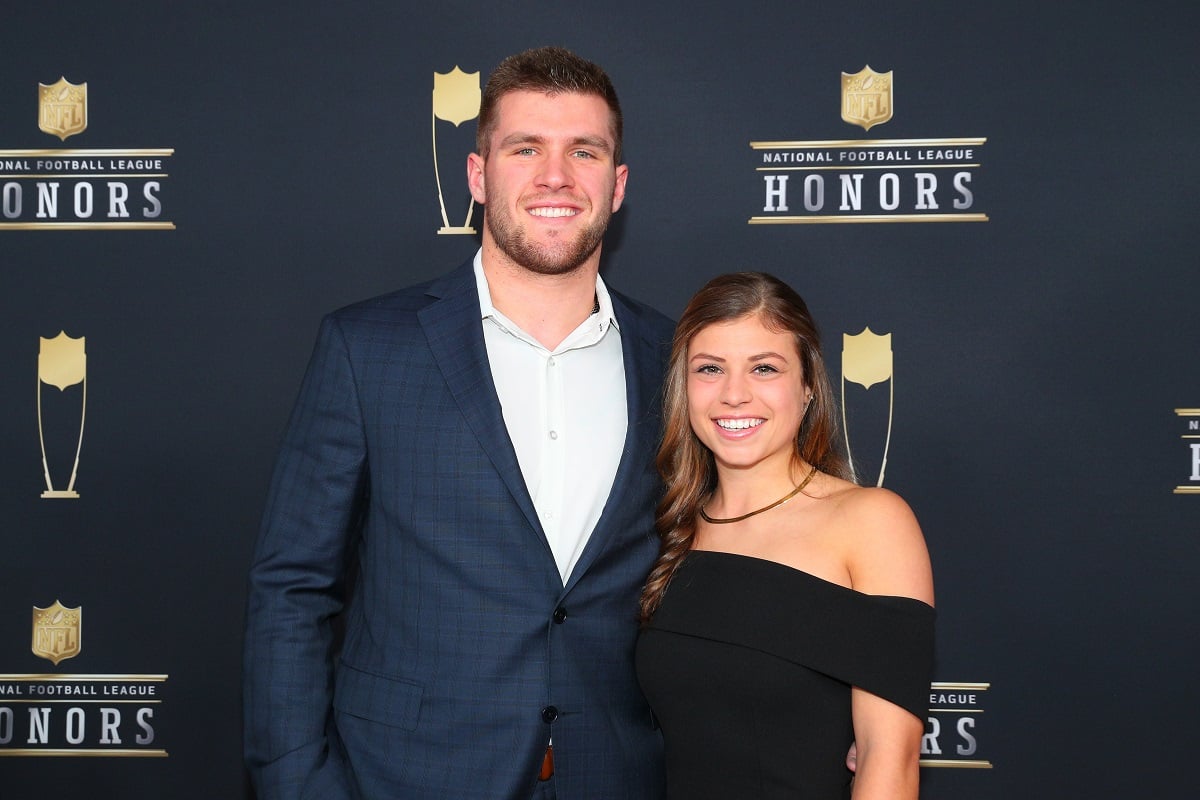 Rhodes is a former teammate of Watt's sister-in-law
While playing with the Red Stars, one of Rhodes' teammates was Kealia Ohai who is actually married to Watt's brother J.J.
When Rhodes posted about getting engaged Ohai commented: "I'm so happy" followed by a heart emoji. She left several heart-eyed emojis on brother-in-law's announcement post as well.
Two months after sharing their happy engagement news, Watt was awarded his big contract with the Steelers. Rhodes gushed about him writing: "Hardest working person I know. There is no one more deserving. Congratulations babe. I'm so beyond proud of you. I love you and can't wait to celebrate soon!"
Source: Read Full Article