Tyra Banks is a woman with many achievements listed on her resume. She first rose to fame as a supermodel and has since ventured into other occupations. Of course, there is her iconic reality show "America's Next Top Model," which she hosted and was the executive producer of. She's an actor, a former talk show host, and an all-around business mogul — one who recently launched her own Ice Cream brand, SMiZE Cream.
One of Banks' most incredible accolades is being the first Black woman to appear on the cover of Sports Illustrated's Swimsuit Issue in 1996, per Newsweek. The "Life-Size" actor posed alongside fellow model Valeria Mazza in a leopard swimsuit and made history. The following year, Banks graced the cover all by herself in a pink polka dot bikini. Over 20 years later, she appeared on another Sports Illustrated cover in 2019 wearing a bright yellow bathing suit at age 45. During a chat with the publication, Banks admitted she never dreamed of being on the front of their magazine because at one point she never thought it was possible.
Banks has clearly opened the doors for many women to follow in her footsteps and is proud to champion them. Japanese tennis player Naomi Osaka recently made history this year, becoming the publication's first Black female athlete to be on the cover of their Swimsuit issue and Banks has some words to say about it. Keep reading to find out more.
Tyra Banks has nothing but love for Naomi Osaka's achievement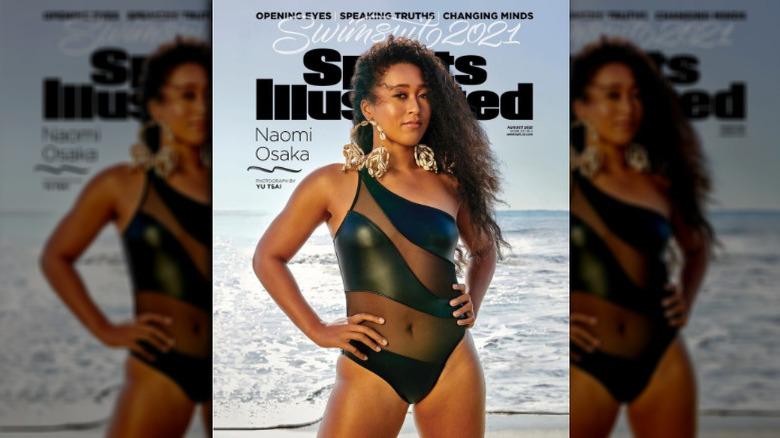 Japanese tennis player Naomi Osaka is one of Sports Illustrated's latest cover stars for their Swimsuit issue and has made history as the first Black female athlete to do this. Supermodel Tyra Banks, who has appeared on three covers for the magazine, took to Instagram to honor Osaka as she was proud of her achievement. "The first Black female athlete on the cover of @si_swimsuit! She looks AMAZING!!!" she wrote, adding, "Plus, she powerfully lit the Olympic cauldron at the Opening Ceremony in her home country of Japan on Friday!!"
"She's biracial. She's a powerhouse. She's @naomiosaka!" the "Dancing With The Stars" host continued. "A gold medal favorite with a booming voice for social justice, and her fierce grand slam is SERVING! Love you girl, GOOD LUCK!" 
Osaka wowed in a black one-shouldered swimsuit and placed both her hands on her hips for the cover. She gazed directly at the camera lens with a fierce expression and posed in front of a beach setting. Osaka rocked hoop earrings made out of seashells and wore her long dark curly locks down and pushed over to one side. Congrats Naomi!
Source: Read Full Article