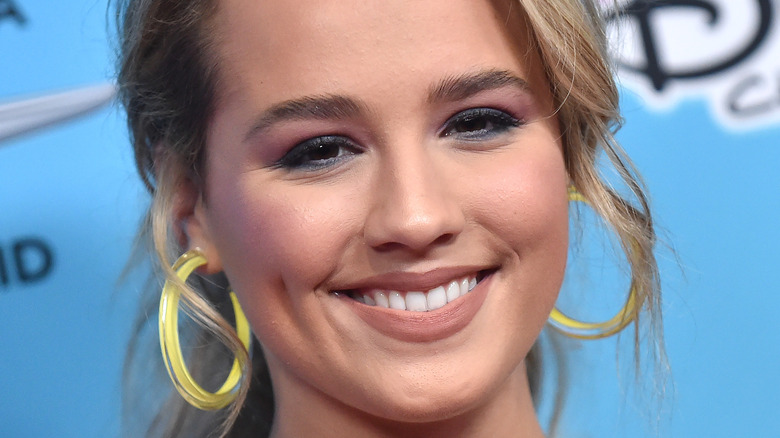 How many "American Idol" winners can you name? There are the obvious early ones like Season 1's Kelly Clarkson, Season 4's Carrie Underwood, and Season 6's Jordin Sparks, but those are givens. You may also recall Fantasia from Season 3, Scotty McCreery from Season 10, or Phillip Phillips from Season 11 (via Insider). But that's only six champions out of a grand total of 19, per IMDb.
It seems like fewer and fewer winners actually make it in the industry following their victory on the show, which likely has something to do with the fact that the prize record deal has gone down from a whopping $1 million to $250,000 — oh, and contestants only get the money if they record an entire album in four months, per Newsweek.
But then there are some outliers — contestants who failed to take home a trophy but ended up finding more success than their season's idols. Among this list is 21-year-old Gabby Barrett. Despite finishing third, she outshone many of her Season 16 competitors and ended up becoming a fan favorite. Not only did she miss out on the prize package, but she also got rejected by a number of Nashville record labels after her season aired. However, that wasn't the end of Barrett's career (via The Boot). Guided by confidence and charisma, she ended up hustling her way to the top of the country charts.
Gabby Barrett is no stranger to hard work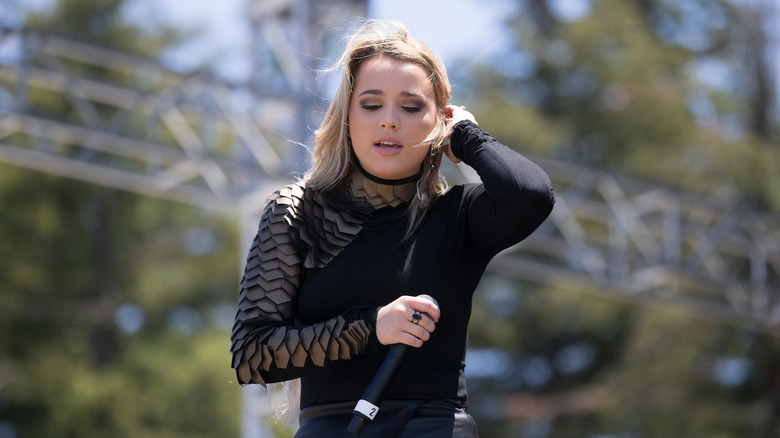 Gabby Barrett was born in a town outside of Pittsburgh, Pennsylvania, in 2000. According to Penn Live, she has seven siblings — three sisters and four brothers. During her stint on "American Idol," she spoke openly about getting bullied so much as a child that she had to switch to online school. For her, music was somewhat of an escape.
Starting at the age of 11, Barrett played around four shows every week. "I [played] many grocery stores," she told The Boot. When she was 17, she got scouted to compete in "American Idol." Even though she passed through the ranks and earned a top-three spot, it didn't mean instant success. "A lot of people assume that … after the show, you're set," Barrett told The Boot, "and that's not the case at all. You go back to almost square one."
After getting rejected by Nashville's record labels, the country singer took things into her own hands and recorded her album. "'Idol' is a platform that you come off of singing cover songs … Labels and people didn't know if I could write original music or anything," she told The Boot. So she put her energy toward writing songs to prove she had what it took to snag a spot on a label roster. As we all now know, her hard work paid off big time.
Gabby Barrett finished her debut album in lockdown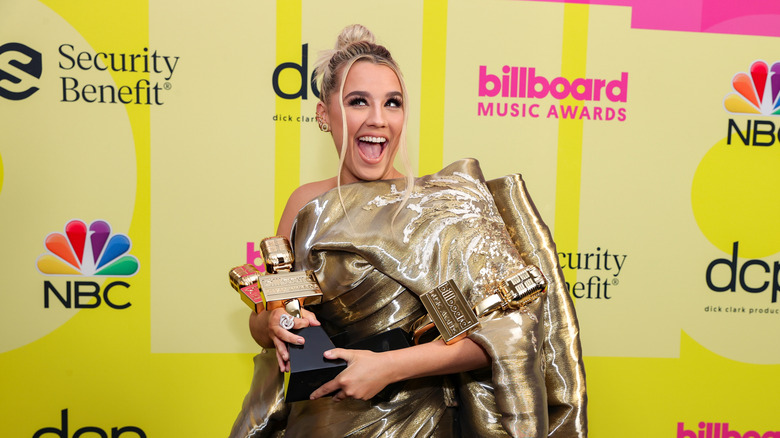 Although Gabby Barrett had most of her debut album finished by the time COVID-19 ravaged the globe, she had to add the final touches while the safer-at-home orders were in effect (via Taste of Country). That meant her team had to work out of their own respective homes and level up their communication skills. Taste of Country reports that Barrett even had to crouch down in a closet at her in-law's East Texas house where she was isolating in order to record one line of a song as a voice memo on her phone.
When Barrett finally released "Goldmine" into the world, the country music scene went crazy for it. As Variety reports, her smash hit "I Hope" made her "the first solo female singer since Carly Pearce in 2017 to reach No. 1 on the country airplay charts with a debut single."
Overall, the critical reception to the album was nothing but glowing. "She's the finest belter country music has seen since Underwood, and a powerhouse vocalist whose fondness for big hooks and big emotions served her well on 'Idol' and continues to do so on 'Goldmine,'" Brain Mansfield wrote in his review for Variety. We can't help but agree.
Like others in her family, Gabby Barrett married young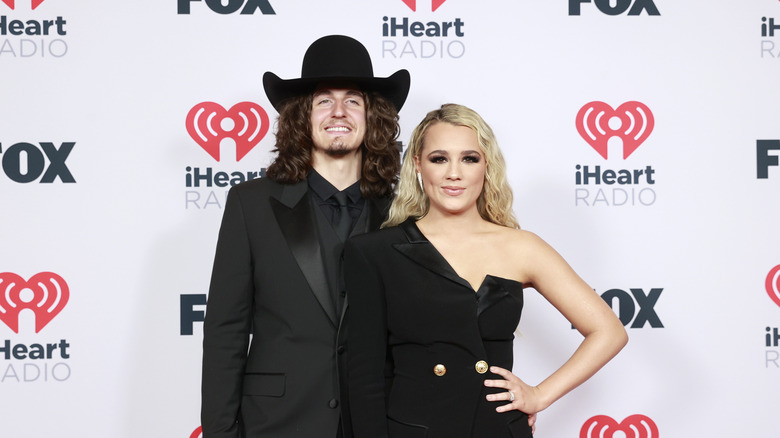 In 2019, Gabby Barrett got married to fellow "American Idol" alumnus Cade Foehner, per Taste of Country. Although walking down the aisle as a teenager may seem shocking to some, Barrett revealed that several of her family members got married even younger. In fact, she has uncles and aunts who said "I do" at age 13 or 14 and are still together more than half a century later.
In January of 2021, the happy couple welcomed daughter Baylah May into the world, per People. The singer took to Instagram to share the news: "Got to spend a very sweet week with our newest addition.. meet our girl," she wrote in the caption.
She later spoke to ET about the impact commercial success and motherhood has had on her. "When I first got married, that changed me in a lot of different ways. It makes you grow up in a lot of different ways and then when you have a baby you grow up in even more ways," she said. "My husband and I are very large Christians and we're very firm in our beliefs. There is a term in the Christian faith called 'dying to yourself' and definitely when you have a baby you learn to die to yourself and everything is just about them. And it's actually really helpful because you definitely become more selfless and help other people in a lot of different ways."
Gabby Barrett's mentor is an American Idol legend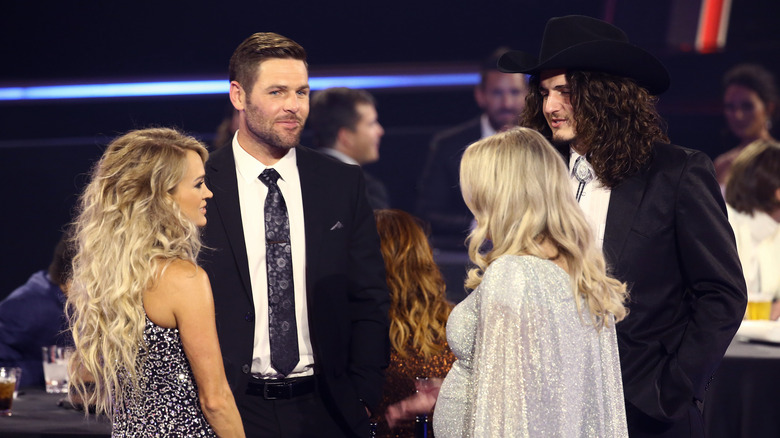 Ever since she first stepped onto the "American Idol" stage, Gabby Barrett has been compared to the country music legend Carrie Underwood. But did you know that the two are actually friends IRL?
According to The Boot, Underwood gave Barrett her number when Season 16 of the show was underway. The young singer said Underwood really "stepped in" and "became a friend." She made use of that phone number by asking for advice, especially about keeping her momentum going after the show ended. "She talked about how really hard work gets it going — that you have to be willing to work really hard," Barrett told The Boot, "so I was like, 'Okay, I wanna do that. Let's do that.'"
But Barrett's own idol (although she's not an "American Idol," per se) is a different country singer — one by the name of Shania Twain. She's been a fan of the Canadian singer-songwriter since she was young. "[She was] musically cool, she performed really well. I don't know, I just liked a lot of different things about her," the singer told The Boot. One of the main draws to Twain is her ability to step into other genres while establishing herself in country music. "That's how I want to be with stuff," Barrett said. "I always want to be in country music, first and foremost, forever." Well, one thing is for sure: We'll forever be fans of Gabby Barrett!
Source: Read Full Article