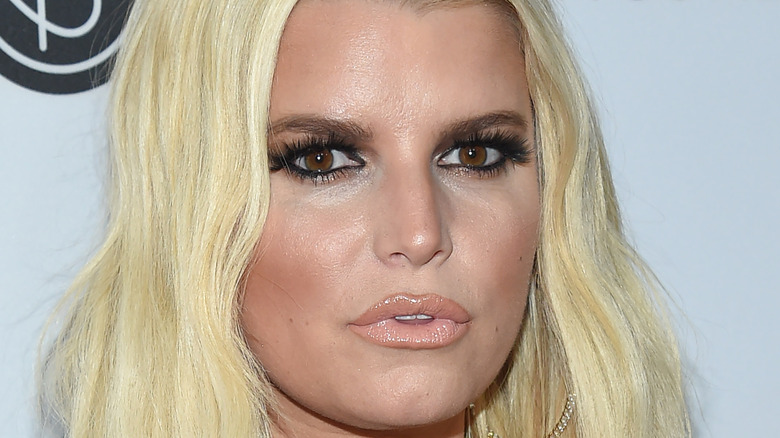 It can be hard to keep track of who's dated who in Hollywood, especially since many A-listers seemingly hop from celeb to celeb in the blink of an eye. And as celebrity and pop culture enthusiasts know, it can be especially hard to keep track of who a notorious womanizer like John Mayer has dated throughout the years. However, given the way the "Your Body Is A Wonderland" crooner has spoken to the media about his past relationships, it's evident that Mayer has no problem reminding the world about his past girlfriends, especially when it comes to singer and actress Jessica Simpson, who he dated on and off for the latter part of the 2000s.
"That girl, for me, is a drug. And drugs aren't good for you if you do lots of them. Yeah, that girl is like crack cocaine to me," Mayer explicitly told Playboy in a 2010 interview (via Insider). "Sexually it was crazy. That's all I'll say. It was like napalm, sexual napalm. Have you ever been with a girl who made you want to quit the rest of your life? Did you ever say, 'I want to quit my life and just f**king snort you? If you charged me $10,000 to f**k you, I would start selling all my s**t just to keep f**king you.'" Yeah, he said that. 
John and Jessica started dating in 2006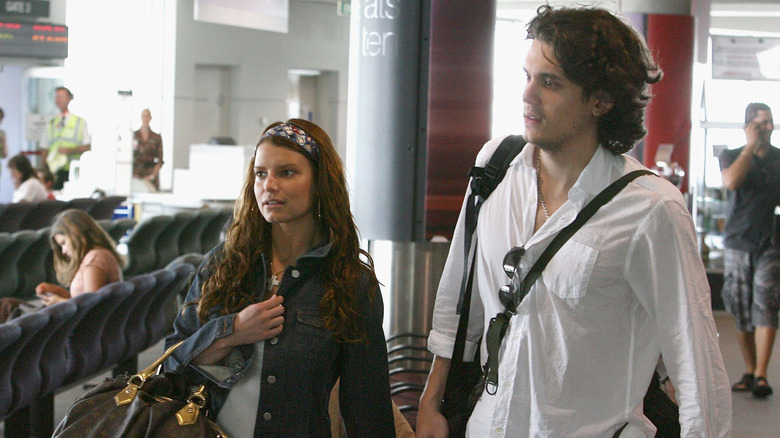 Per Refinery29, John Mayer and Jessica Simpson met while she was still married to Nick Lachey, and after she and the 98 Degrees star finalized their divorce in 2006, Simpson and Mayer started a relationship that turned out to be one of the most tumultuous celebrity unions of the late 2000s.
In an excerpt from her memoir, "Open Book," in which she dishes all about her relationship with Mayer, the fashion mogul got candid about how she felt inferior to Mayer pretty much from the get-go, writing that she was afraid that she wasn't "smart" enough to keep up with him. "He was so clever and treated conversation like a friendly competition he had to win," she wrote. "One minute he was explaining the start of his Rolex collection, and then another he was going on about a collector who he was jealous of, then the nature of jealousy, then the concept of time and the heft of it on your wrist…."
In an interview with "TODAY" while promoting her memoir in 2020, the "Employee of the Month" star opened up even more about their relationship, telling Hoda Kotb, per Entertainment Tonight, "We were great at intimacy. We were great at loving each other. That was easy, but the relationship was very complex. And it was always on-again, off-again. On-again, off-again. And I went back close to nine times." Simpson also noted that Mayer broke up with her via email most times.
Jessica started dating this NFL star after splitting from John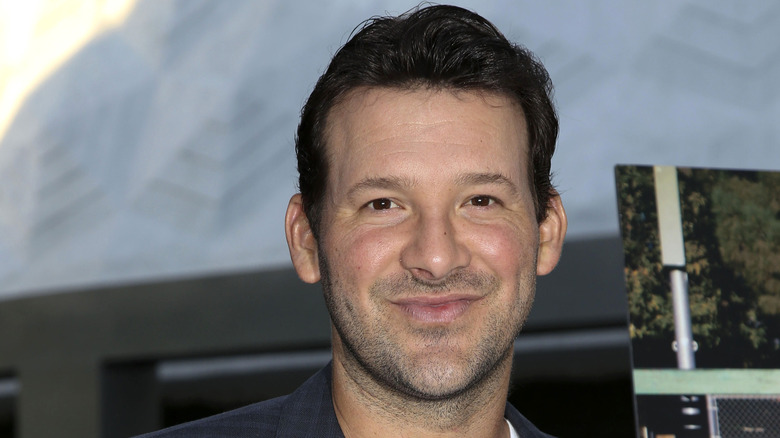 Jessica Simpson had seemingly moved on from John Mayer in the fall of 2007 after she began dating NFL star, Tony Romo. According to Simpon's memoir, Mayer used to text and/or email the "I Wanna Love You Forever" singer while she was with Romo — who had always been suspicious of the former couple's relationship — however, Simpson wrote that she would always show her then-boyfriend the messages Mayer would send her. "If John texted or emailed, I would hold up my phone and tell Tony immediately," she wrote (via Page Six). "He knew the hold John had over me, and it was like telling your sponsor when you're triggered."
Simpson also said that Mayer stayed close with her family while she was with Romo, keeping a friendship with her sister Ashlee, her ex-husband Pete Wentz, and of course, her dad, Joe. 
"By a fire in the backyard, he stood and told all of us that he loved me and that we could all trust him to be a good man. I told him I would always love him, but I was with Tony," Simpson recalled. "But I didn't tell Tony. I broke my own rule of full disclosure about any contact, even accidental, with John."
John was the reason Jessica and Tony split in 2009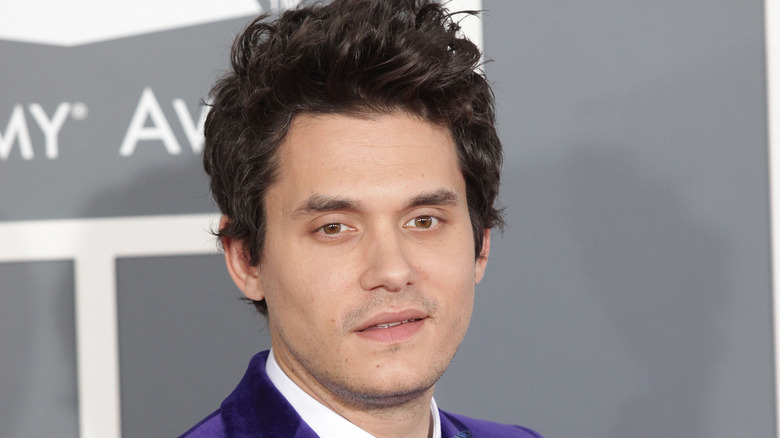 Shortly after Jessica Simpson's dad, Joe, had invited John Mayer to their Los Angeles home while the "Newlyweds" star was in town, Tony Romo found an email from Mayer on Simpson's phone and suspected she was cheating on him. He ended the relationship right then and there. "I hadn't cheated on Tony at all, but I could not lie and say I hadn't even seen him," she explained (via Page Six). "And within that second, he broke up with me right there. Two years, gone with an email." Although Romo later realized that his ex had been telling the truth, it was too late to repair their relationship.
"He loved me in the way that he could and I loved that love for a very long time. Too long," she told People of her and Mayer's relationship (via Entertainment Tonight). "And I went back and forth with it for a long time. But it did control me. He'd walk into a room and pick up his guitar and you'd swoon. I didn't really know the man behind the guitar. And that was my mission."
"He'd dump me, then come back saying he had discovered he loved me after all," Simpson wrote in another excerpt from her memoir (via People). "I always saw it as him mercilessly taking me in from the cold. Every time John returned, I thought it was a continuation of a love story, while my friends saw a guy coming back for sex with some foolish girl."
Jessica and John split for good in 2010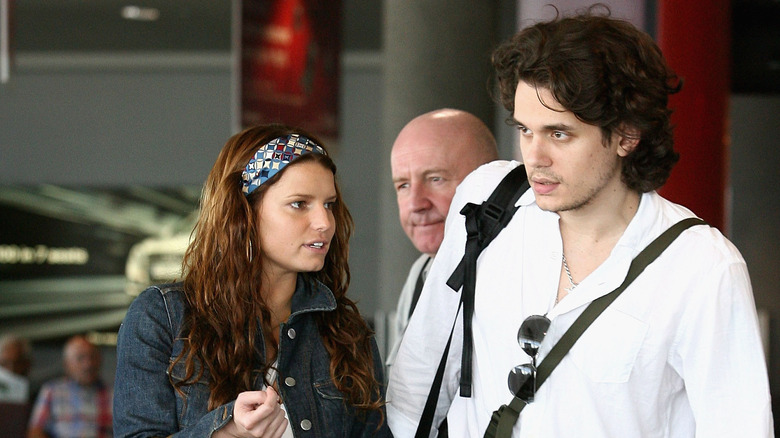 The pair reunited yet again shortly after Jessica Simpson's split with Tony Romo — a habit that both she and John Mayer considered an addiction. "I felt the full intensity of his obsession with me. And it was a drug to me," she said (via People). "He studied every inch of my body, every detail of my face. He photographed me constantly, to the point that I worried he was keeping souvenirs before dumping me again." However, it was Simpson who put the final nail in the relationship coffin this time, citing Mayer's infamous 2010 Playboy interview in which he called the "Dukes of Hazzard" actress "sexual napalm."
"He thought that was what I wanted to be called. I was floored and embarrassed that my grandmother was actually gonna read that," Simpson said (via Entertainment Tonight). "A woman and how they are in bed is not something that is ever talked about. It was shocking. He was the most loyal person on the planet and when I read that he wasn't, that was it for me. I erased his number."
In 2017, Mayer kind of apologized in an interview with The New York Times, telling the outlet, "What has to happen for a guy to believe that he's totally well-adjusted and be that far out of touch? My GPS was shattered, just shattered."
Source: Read Full Article