Selena Gomez and Jennifer Stone got together recently and had to recreate an iconic Wizards of Waverly Place moment on TikTok. The former co-stars had to refresh their memories to nail the "Crazy Hat" song and the video left fans feeling all the Disney Channel nostalgia.
The 'Crazy Hat' song was an iconic 'WOWP' Season 1 moment
Gomez, who played Alex Russo, and Stone, who played Harper Finkle, sang the song in the Wizards of Waverly Place Season 1 episode titled "New Employee."
Alex and Harper sing it for the first time when someone at school is wearing a hat. They also sing it when Harper works at Alex's family business, the Waverly Sub Station, upon seeing a customer in a cowboy hat. Then they break into the silly song when Harper works at a frozen yogurt store and the machine breaks, leaving Alex with frozen yogurt on her head.
What's that? A hat?
Crazy, funky, junky hat
Overslept, hair unsightly
Trying to look like Keira Knightley
We've been there, we've done that
We see right through your funky hat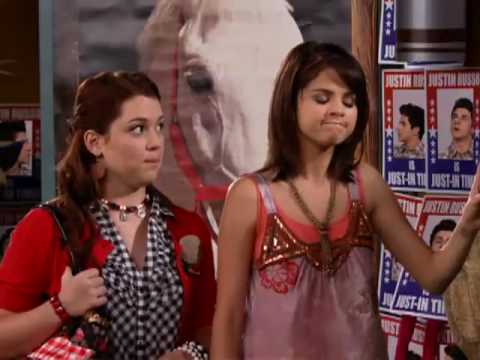 Selena Gomez and Jennifer Stone recreated the 'Crazy Funky Junky Hat' song from 'Wizards of Waverly Place'
Gomez and Stone took a moment from their recent get-together to record a TikTok video of them recreating the Wizards of Waverly Place song.
The singer and actress posted the video on her TikTok account on April 23 with text on the screen that noted, "We had to…"
The former co-stars looked casual with drinks in hand as they went through the dance routine while lip-synching the little ditty.
Stone also posted it on her TikTok account, with the caption: "Reunited and it feels so good. #funkyjunky #wizardsofwaverly #harper #alex #yesteryear #nostalgia #whatsthatahat."
Fans loved the Selena Gomez 'Wizards of Waverly Place' throwback moment
Needless to say, seeing Gomez and Stone together again really had people feeling all the nostalgia. "This sparked something in me I haven't felt in years," one person commented on Gomez's TikTok video.
Another fan agreed, writing, "I haven't felt this type of happiness since Disney."
Others shared comments such as, "Iconic then. iconic now," "Core childhood memory was just unlocked," "My heart just burst," and "This just made my life complete."
One fan summed up the feeling of nostalgia perfectly, writing, "Triggered my childhood memories in 20 sec video, you gals are amazing."
Another Gomez follower commented, "It warms my heart that y'all are still friends. Love this soo much."
And Gomez's Wizards of Waverly Place mom Maria Canals-Barrera even commented. "LOVE this. Love you two!" she wrote.
Former 'WOWP' cast members recreated the song before
Former Wizards of Waverly Place stars Stone, David Henrie, and Gregg Sulkin had a mini-reunion in 2020, where they answered trivia questions about the show.
The "Crazy Hat" song came up as they discussed the series. Henrie, who played Justin, said it's something he's often asked about.
"I get comments to this day — people are like 'Do the crazy funky junky hat,'" he said. He excitedly said, "We should totally do that!!"
Cut to — the former co-stars put a slightly different spin on the "Crazy Hat" song.
Source: Read Full Article