If you, like me, are fully obsessed with Mindy Kaling thanks to a casual combination of The Office, The Mindy Project, and Never Have I Ever, then you'll be pleased to know she and her bank account are doing very well. And by that I mean she is extremely rich thanks to being a straight-up creative genius who has always advocated for herself in a pretty male-dominated industry.
As she put it back in ye olden days of 2016, "For years and years, the role of the lead actress on a sitcom was to do two things: look amazing and to make one-third of what my male co-star makes. So I want to be clear, I do always look amazing on the show, and no man on my show makes more money than me."
On that note, time to:
Mindy's Salary on The Office
Details are slightly murky, but according to The Richest, Mindy earned $60,000 per episode for her work on the show. However, Mindy was an actress, writer, and executive producer on The Office, so wouldn't be surprised if she made way more than this. Just my personal opinion which largely means nothing, but ya know!
Mindy's Salary on The Mindy Project
When the show was airing in 2014, Forbes listed Mindy as #7 on its list of Highest Paid TV Actresses, noting that she earned most of her income from an exclusive syndication deal with Hulu Plus, as well as The Office syndication and residuals. Thanks to allllllll that $$ (plus an endorsement deal with Xfinity!) Mindy was up $2 million from 2013.
Apropos to nothing, I am now going to make us watch Mindy and Danny's first kiss, factually one of THE best first kisses on TV:
Let's Not Forget About Her Movies, Kay?
Mindy's exact per-movie salary isn't known (rude), but we do know that Forbes listed her as #3 on their Highest-Paid TV Actresses roundup in 2017, saying she made $13 million from The Mindy Project, A Wrinkle in Time, and Ocean's 8 that year. A huge amount of money no matter how you slice the pie.
And Her Book Deal? Massive.
Mindy has authored multiple books over the years, and if you want an idea of just how much she makes for them, apparently she and B.J. Novak got a rumored $7.5 million advance for a book of essays—putting her yearly earnings in 2016 at $15 million (and landing her at #3 on Forbes's list of highest-paid actresses).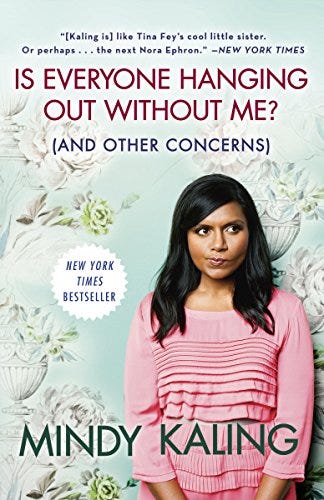 These Days She's Making $8.5 Million a Year
HBO Max's The Sex Lives of College Girls and Netflix's Never Have I Ever are earning Mindy a huge amount thanks to that sweet, sweet, streaming money. Which brings us to her overall deal with Warner Bros. Television.
Back in 2019, The Hollywood Reporter dropped the news that Mindy had signed a "massive six-year, mid-eight-figure overall deal" with WB, while Deadline noted that it's "worth about $8.5 million a year." Screaming.
So, What Is Mindy Kaling's Total Net Worth?
Celebrity Net Worth reports that she has $35 million in the bank—not to mention at least $10 million tied up in L.A. real estate. But expect this number to rise since Mindy's talent is pretty much boundless.
Source: Read Full Article