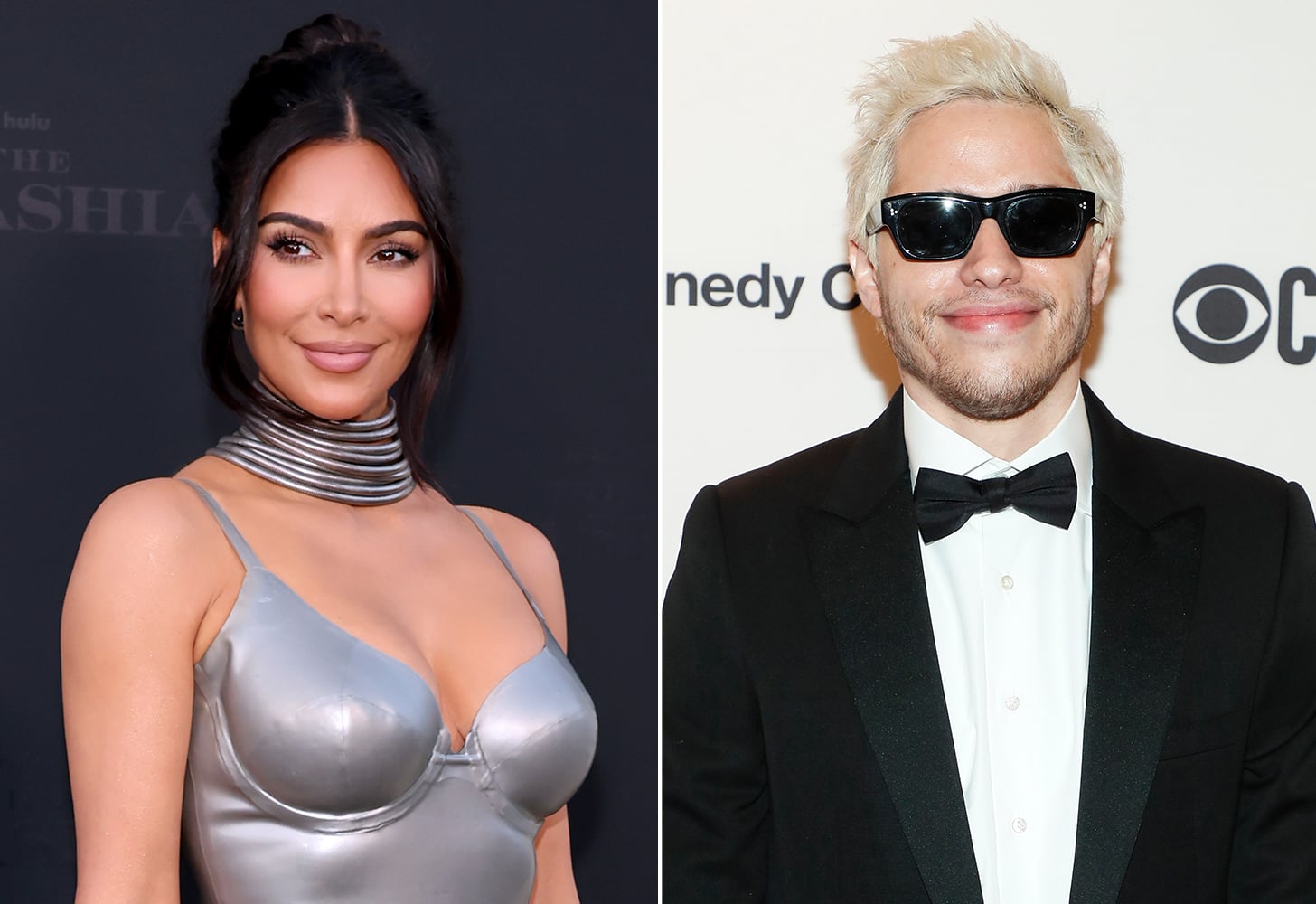 Image Source: Getty / Jon Kopaloff / Paul Morigi
Kim Kardashian is finally opening up about the early days of her romance with Pete Davidson. After recently sharing how happy and "at peace" she is in her relationship, the Skims founder offered details about how the couple came to be on Dear Media's "Not Skinny But Not Fat" podcast, hosted by Amanda Hirsch. In an episode that dropped on April 12, Kardashian chatted about her first meeting, kiss, and date with Davidson, as well as coparenting with Kanye West and her relationship with her sisters.
Kardashian clarified she and Davidson actually first met at the Met Gala last September, a month prior to her "Saturday Night Live" debut, where the comedian approached her to chat about her upcoming gig. As he gave Kardashian advice, Davidson offered his number, but because she had gloves on — Kardashian was covered head to toe in black fabric — she couldn't get into her phone. Though Kardashian was about to ask him to take her number instead, Davidson had already brushed it off and walked away, so they didn't spend time together until the day of her "SNL" appearance.
She also revealed how she felt about their first kiss, which was during their Jasmine and Aladdin sketch on "SNL." "It was a stage kiss, but it was still a little zing," she said. "It wasn't anything, like a super crazy feeling, but I was just like, 'Hmm.' And then I was like, 'Wow, I really haven't kissed anyone else in 10 years, so maybe I'm just being stupid and it's just nothing.'" But a few days afterward, she thought, "Hmm, there is some BDE action."
But their "SNL" interaction was minimal as well, as Davidson only showed up the day of Kardashian's appearance. He was also the only cast member who didn't come to the afterparty or sign off to be filmed for the Hulu show. While Kardashian declined to share how the two actually ended up dating — she teases there's more about that on "The Kardashians" — she did reveal their first date was a private hangout at the Beverly Hills Hotel in LA.
Source: Read Full Article