Kevin Love is one player that maybe hasn't gotten enough credit throughout his NBA career. He was a big reason that the Cleveland Cavaliers went to multiple NBA Finals, and he was crucial to the Cavaliers winning an NBA championship in 2016. While Love was the third star of the Cavs' big three that consisted of himself, LeBron James, and Kyrie Irving, he is now the only one of those three still playing for the Cavaliers.
Love was certainly a beast before joining the Cavaliers. However, he just admitted that he had to completely change his game in order to succeed with James and Irving in Cleveland.
Kevin Love was a third star for the Cavs after dominating on the Timberwolves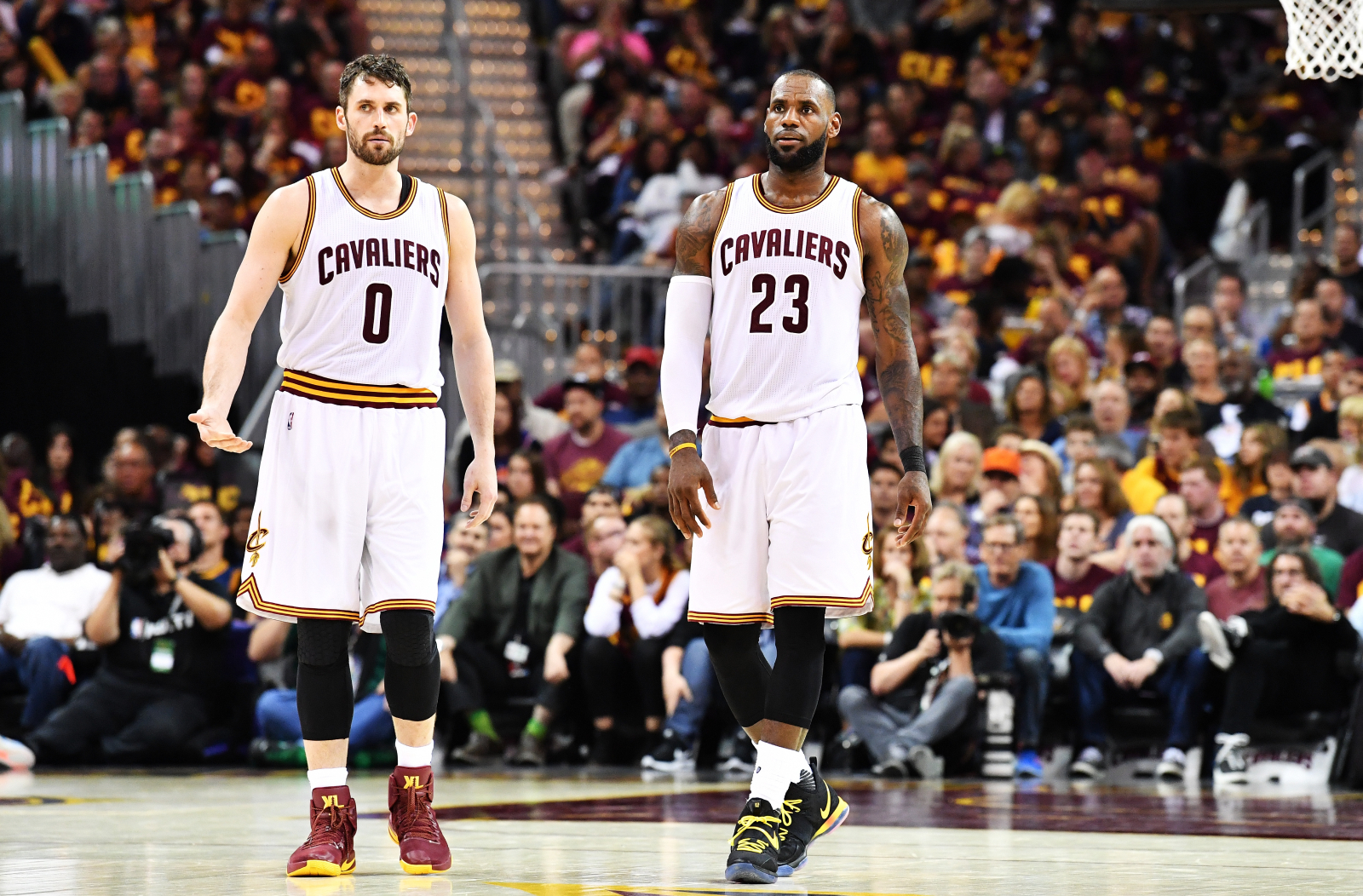 Love went to the Memphis Grizzlies with the fifth overall pick in the 2008 NBA draft. He then got traded to the the Minnesota Timberwolves, and was ultimately dominant in Minnesota.
After a couple of decent seasons to start his career, Love became an All-Star in 2010-11. He averaged 20.2 points per game that season and led the NBA in rebounds per game with 15.2. Love then continued to improve the next few years, averaging 26 points per game and over 12 rebounds in both of the 2011-12 and 2013-14 seasons with the Timberwolves.
However, in the summer of 2014, the Timberwolves traded Love to the Cleveland Cavaliers, as Love teamed up with LeBron James and Kyrie Irving. Over the next four years, Love's numbers took a hit since he was no longer the main star, but the Cavaliers had a lot of success.
In the four seasons that he played with James, Love averaged 17.1 points per game and 10 rebounds. However, the Cavaliers made four straight NBA Finals appearances during those years and won the NBA Finals in 2016.
James and Irving were incredible in those seasons too. James averaged 26.1 points per game, eight assists, and 7.7 rebounds in those four years. Irving, on the other hand, averaged 22.4 points per game and 5.3 assists in the three seasons that he played on the Cavaliers during that stretch. Love was clearly not the top guy during those seasons.
Love had to change completely to play with James and Irving
Love recently went on JJ Redick's The Old Man and The Three podcast, and he discussed what it was like to become the third star on an NBA team.
"I really had to transition my body into being a little bit lighter," Love said. "But also, I was like: 'OK, I'm going to have to shoot a lot of threes. I'm going to have to completely change my game.' … At the time, it was probably 20-plus years of organized basketball, having a dad and having a teacher that tells me, 'OK, we're playing from the inside-out.'"
He added, "For me, that was a really hard adjustment."
Love then later discussed how, being the third star, that he took the most heat.
"I went from being an All-NBA, All-Star guy to then being that third option, and I'm thinking, 'Oh, I watched [Chris] Bosh, I watched him pretty closely.' Who didn't watch those Miami teams? 'But maybe I can learn something from him.' But it was just, every team has a different make up," Love said. "That was a hell of an adjustment period for me, from going from a guy that shot almost 20 shots a game … to then being basically relegated as a 3-point shooter."
Despite having to change his game entirely, Love ultimately said that he wouldn't change it for the world. He got to play for championships with two incredible players.
Can he help the Cleveland Cavaliers become a winning team again?
The Cavaliers ultimately traded Kyrie Irving in August 2017, and LeBron James signed with the LA Lakers in the summer of 2018.
Since James' departure, Love and the Cavaliers have struggled. He only played in 22 games in 2018-19 and averaged 17 points per game and 10.9 rebounds. The Cavaliers ultimately went 19-63 that season. This year, prior to the NBA suspending its season, Love was averaging 17.6 points per game and 9.8 rebounds. The Cavaliers went 19-46.
However, they could improve greatly in 2020-21. The Cavs traded for Andre Drummond about a month before the league suspended its season, and they have the fifth overall pick in the 2020 NBA draft.
If Love and Drummond can be valuable pieces in the paint for the Cavs and can lead the young guys effectively, then the Cavaliers certainly have a chance to get back to winning basketball games in 2020-21.
Stats courtesy of Basketball Reference
Don't Miss: Why J.R. Smith Deserves More Credit For His Time on the Cavaliers
Source: Read Full Article