Kelly Ripa likes to have a good time – even if it's her own expense at times!
MOST READ: NCIS star Eric Christian Olsen shares heartfelt tribute to co-star following departure
The Live star went to visit her youngest son Joaquin Consuelos over the weekend, and while watching a wrestling match – Michigan vs Ohio – she ended up getting injured.
Explaining what happened on Monday's Live with Kelly and Ryan – which saw her sit alongside husband Mark Consuelos, who was subbing for Ryan Seacrest, she explained just what happened.
VIDEO: Kelly Ripa and Mark Consuelos' incredible love story
While a good time was had by all, Mark got over excited during the game at one point, and lifted Kelly up into the air, resulting in injury and a cracked rib.
MORE: Kelly Ripa's daughter Lola moves back home – and it has a surprise impact on her famous parents
POPULAR: Kelly Ripa and Mark Consuelos show support for youngest son Joaquin
"Something definitely happened to my rib", the former Hope and Faith actress said. Luckily, the injury didn't cause too much damage to Kelly, and she was her usual cheerful self in the first show of the week.
Kelly and Mark often go and visit Joaquin in Ann Arbor, where he has been based since enrolling at the University of Michigan in 2021.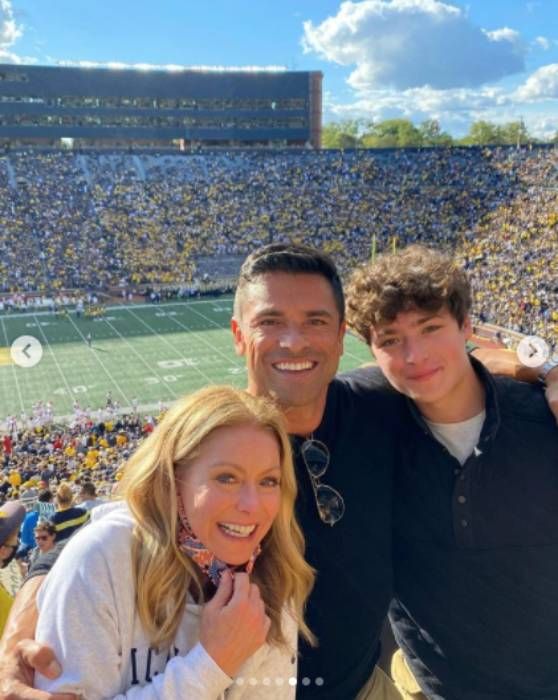 Kelly Ripa ended up cracking her rib while visiting son Joaquin in Michigan
Joaquin was the last of their children to go to college, making them empty nesters as a result. He was also the first of their children to attend university outside of New York City, with both his older siblings, Michael, 25, and Lola, 21, choosing to go to New York University.
MORE: Kelly Ripa reunites with son Joaquin – but he's not impressed!
POPULAR: GMA3 stars' wedding photos: Dr. Jennifer Ashton, Amy Robach, T.J. Holmes, more
Michael has since graduated and is an aspiring actor living in Brooklyn, while Lola is in her final semester, and recently spent several months abroad in London.
The aspiring musician is now living back with her mom and dad at their townhouse in Manhattan, and the couple gave an insight into their dynamics with their daughter on Tuesday's Live, explaining how she often forgets to knock when going into their bedroom – something they have had to remind her to do!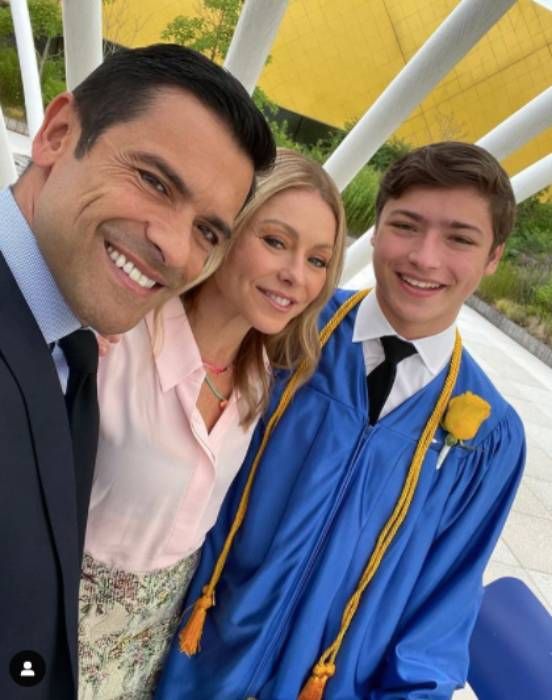 Kelly and husband Mark Consuelos are incredibly proud of Joaquin
All three of Kelly and Mark's children are incredibly self-sufficient – something that their mom and dad were keen about.
MORE: David Muir gushes over Kelly Ripa's children in revealing new interview
MORE: Kelly Ripa's filtered photo receives mass reaction from famous followers
The Live Wire author spoke out about the need for her children to earn their own way in life on Instagram.
Back in 2019, she shared a photo of Michael – who was then at college – with the caption: "When your son gives you a job.." One follower asked whether Michael had dropped out of school, to which she replied: "Michael goes to college and is a senior and works full time. He is in his first non parent subsidized apt with roommates.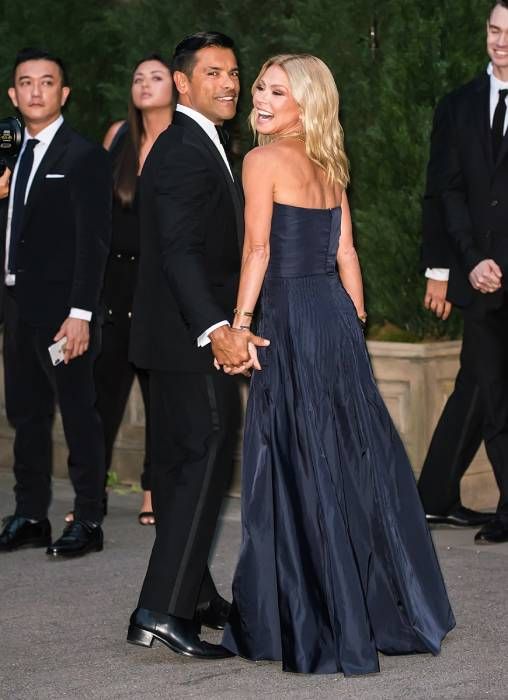 The celebrity couple met on the set of All My Children
"I'm used to getting a lot of slack because people love to have fake outrage over something they didn't see. They only read a headline and wag their tired fingers."
MORE: Michael Consuelos shares unexpected photo from paradise
MORE: Kelly Ripa looks incredible in vibrant orange bikini in epic family photo
She went on to say: "I didn't grow up privileged and neither did @instasuelos. We work and we expect our kids to as well. And the fact that a pack of fools want to [expletive] about that, I say let em."
Read more HELLO! US stories here
Source: Read Full Article