The 'Pirates of the Caribbean' star is seen taking a selfie with a 'thrilled' fan while shopping for art prints and frames at an East Sussex store amid the defamation trial recess.
AceShowbiz –Johnny Depp is enjoying the break from his bombshell defamation trial against Amber Heard. The "Pirates of the Caribbean: Dead Men Tell No Tales" actor spends his time in the United Kingdom before returning to stand in court along with his ex Ellen Barkin.
The New York Post reported on Thursday, May 12 that the 58-year-old actor was seen strolling around East Sussex on Wednesday. At one point, he was spotted taking a selfie with an admiring fan while he was shopping for art prints and frames at a store called King and McGaw around 5 P.M.
A man named Stephen Wishart and Johnny took a photo together, showing the two smiling as the actor put his hands on the shopkeeper's shoulders. Emma Wishart, whose husband Stephen works at the shop, told the outlet, "Unfortunately I wasn't there but my husband was thrilled!" Emma further said that Johnny "was very nice and relaxed and they had a chat about guitars," adding that the actor didn't buy anything but she believes he may come back.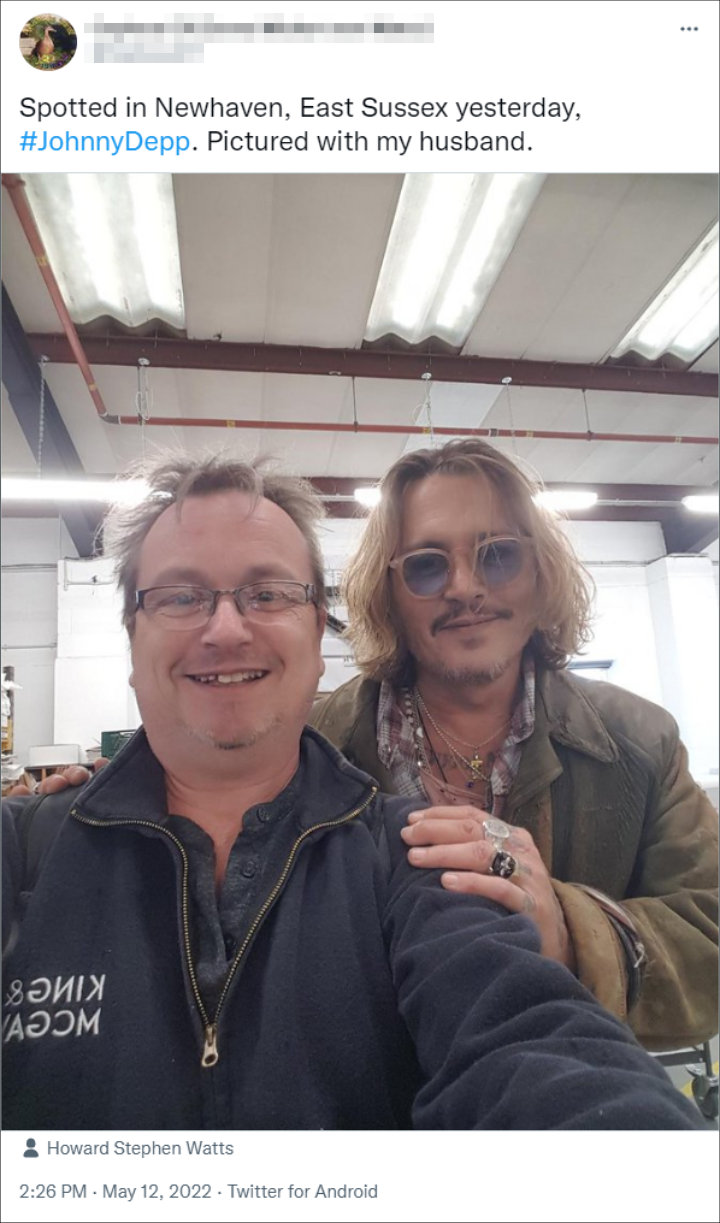 Johnny Depp took a selfie with a 'thrilled' fan during Amber Heard defamation trial break.
A source close to Johnny told the outlet that the "Charlie and the Chocolate Factory" actor was overseas as the court proceedings are in recess. "Johnny is in Europe taking some time out to rest for a few days, [hanging] out with old friends, playing music, and is taking long walks in the countryside," the so-called insider shared.
Johnny is scheduled to take the stand in trial next week. Aside from the "Fantastic Beasts: The Crimes of Grindelwald" actor, his ex Ellen and Amber's sister Whitney Henriquez, who both previously testified on behalf of the "Aquaman" actress, will take the stand again as the trial will resume on Monday at 9 A.M. ET.
Ellen will be called to the stand as a witness for Amber via video conference, while Whitney will testify in person. In the meantime, Johnny will take the stand once again to be questioned by Amber's legal team.
Johnny sued Amber for $50 million in the defamation case over a 2018 Washington Post op-ed piece. In it, the 36-year-old actress called herself "a public figure representing domestic abuse." Though Johnny wasn't named in the essay, he claimed that the op-ed clearly referenced him and later ruined his career, damaged his reputation and cost him millions of dollars.
Source: Read Full Article