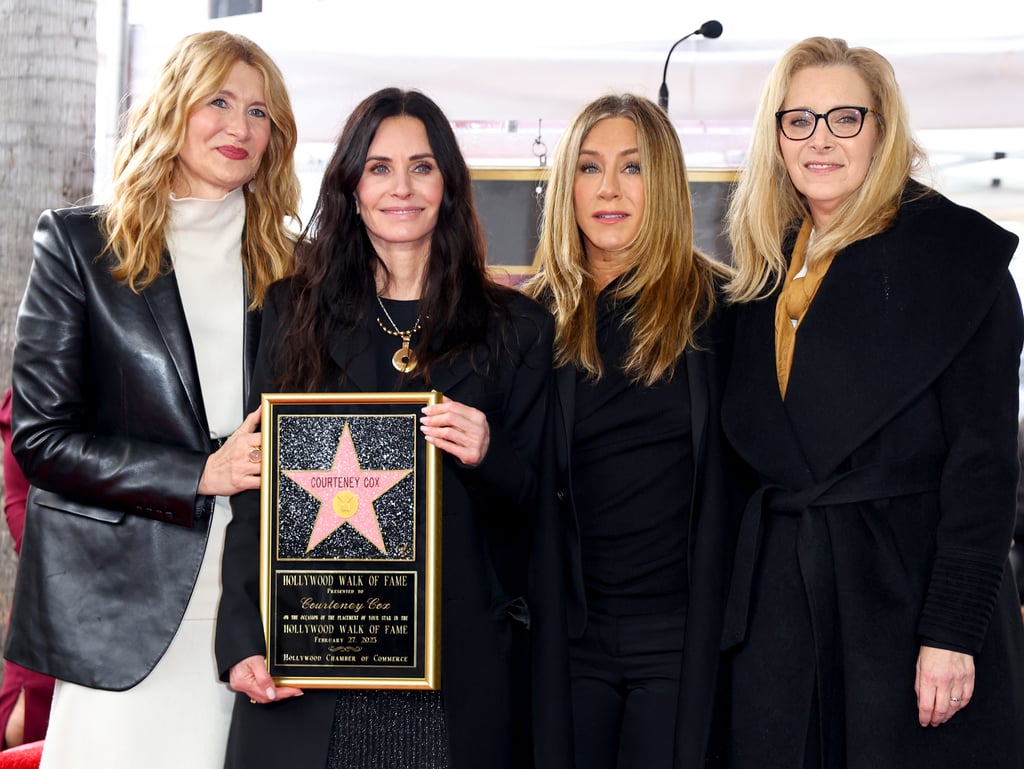 Jennifer Aniston, Lisa Kudrow, and Laura Dern Honor Courteney Cox at Walk of Fame Ceremony

Courteney Cox is feeling the love. On Monday, the 58-year-old was honored with her very own star on the Hollywood Walk of Fame for her achievements in entertainment as an actor, producer, and director over the past 39 years. Cox was joined by her nearest and dearest, including partner Johnny McDaid, daughter Coco Arquette, and pals Jennifer Aniston, Lisa Kudrow, and Laura Dern.
During the ceremony, Dern called Cox the "most extraordinary person possible," saying in part, "Courteney is truly the embodiment of a shining star. She has thrilled fans for decades with iconic characters that made her a household name and have woven her into the fabric of American culture."
Dern continued: "I don't know where to begin in terms of all the areas of my life where Courteney Cox has entertained me, guided me, led me, or just made life unbelievably better . . . Courteney isn't just an amazing actor with outrageously genius comedic timing, but she has the rarest trait of an actor and as a friend: someone who has to tell the truth. The truth comes through her in all her magnificent work as we've seen."
Cox's "Friends" costars Aniston and Kudrow also got on stage to congratulate their friend. Aniston began, "To be friends with Courteney is to be family with Courteney and she is responsible for all of that. From the beginning of when we met her, she was immediately inclusive, warm, loving, interested in everything about you." Referencing their time on "Friends," Kudrow then credited Cox for being responsible for creating "one of the closest, most loving, and supportive casts in the history of television."
The duo then shared some of their favorite memories with Cox over the years before getting emotional while saying how proud they are of their dear friend. "You are the definition of a truly beautiful, talented, and what's most important, a truly good and decent human being," Kudrow said.
After Cox's loved ones were done with their speeches, the actor took the stage to say a few words herself, thanking everybody who's helped her get to where she is today. "This is really surreal because I'm from Birmingham, Alabama, and the only time that you see your name on a sidewalk is if you did it yourself with a stick in the wet cement," Cox joked. She also gave her 18-year-old daughter a shout-out, saying, "It's not easy to grow up in this business and I just want you to know you shine and you shine in your own unique light. And I love you so much, I'm so proud of you. I'm proud to be your mom."
Watch Cox's entire Walk of Fame ceremony on Variety's YouTube and check out photos ahead.
Source: Read Full Article