The makeup guru takes to social media share another photo of her and her mystery boyfriend, revealing his height and gushing about his bedroom skills in the caption.
AceShowbiz –Jeffree Star is seemingly feeling happy these days, but he's not ready to share too much with the world just yet. The YouTube star has apparently found himself a new boyfriend, which she has been teasing about on social media, but still keeps his identity a secret.
On Monday, January 30, the makeup guru took to his Instagram account to share a new photo of his new man, whom he has described as an NFL star. In the snap, the 37-year-old took their selfie in the bathroom with his boyfriend showing his back to the camera.
Jeffree, who sported short blonde hair with a Louis Vuitton jacket and a pair of stylish sunglasses, held his phone in one hand to capture their reflections in the mirror. His mystery boyfriend matched the Internet personality with an orange-and-brown hoodie and matching pants from the same brand as they were holding hands.
In the caption, Jeffree shared some details about his boyfriend while gushing about his bedroom skills. "His team didn't make it to the #SuperBowl but he's 6'6 and plays perfect in the bedroom," so he wrote, while revealing that the photo was taken in Casper, Wyoming.
Jeffree previously revealed that he's dating an NFL star via Twitter. On January 27, he posted a photo of him and his boyfriend on a private plane. The two were lying with their legs resting on adjacent seats, while their hands were intertwined. "Goodbye LA, time to spend time with my #NFL boo in Wyoming," he captioned the snap.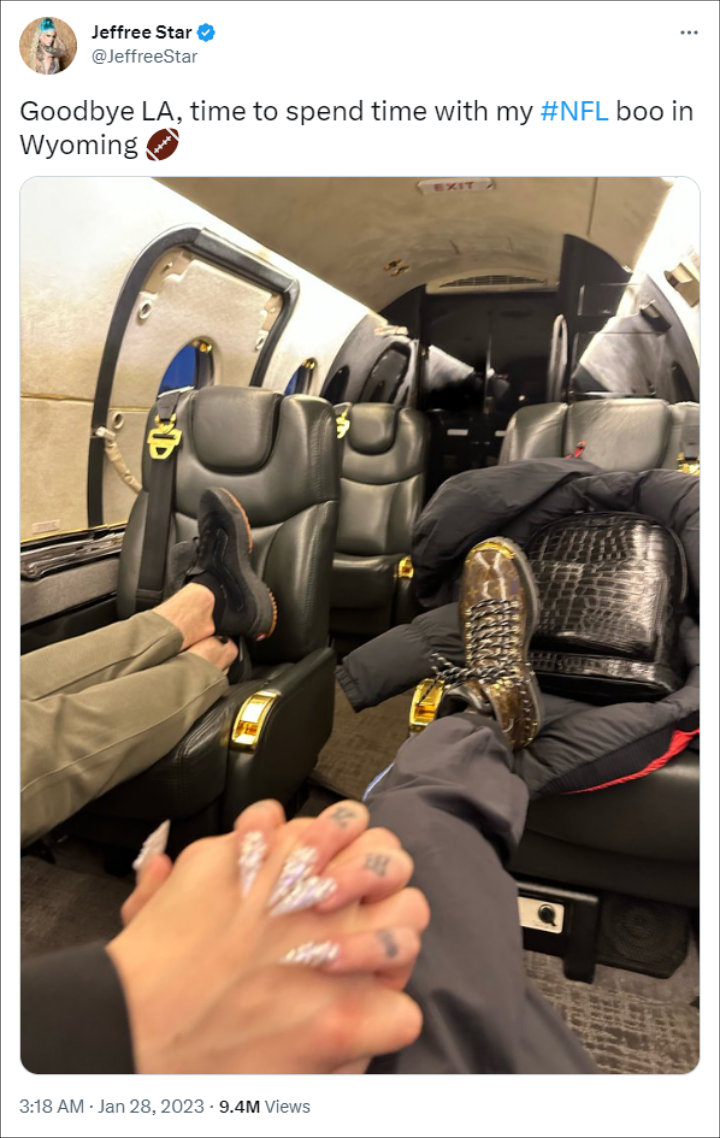 Jeffree Star teased about his NFL star boyfriend on Twitter.
Internet sleuths have since been putting the pieces together and guessing who Jeffree's boyfriend might be. "Teams with orange in their colors: Browns, Bengals, Broncos, Dolphins, Bears. It's not the Bengals because they were together yesterday and the Bengals played, so that's a red herring and probably why Jeffree is posting this today to throw people off," one fan noted.
The same person added, "The Browns' colors are Brown and Orange. Jack Conklin and Ethan Pocic are the only white, 6'6 players on the Browns that also have hair like that. Imma check the other teams though."
Another claimed, "FBI mode activated," while someone else joked, "So like who's setting up the whole search unit lmaooo."
You can share this post!
Source: Read Full Article