Justin Bieber and wifey Hailey Baldwin Bieber have been used to the ~lavish lifestyle~ for a looong time, and this weekend was basically like any other day for them.
After a bomb night at the VMAs, where Hailey cheered on her man during his performance, and after stepping out to the Met Gala in chic all black ensembles, the Biebers closed their time in NYC with a Met Gala after party—hosted by the one and only Rihanna—and looked pretttty damn good en route to the function.
Take a look: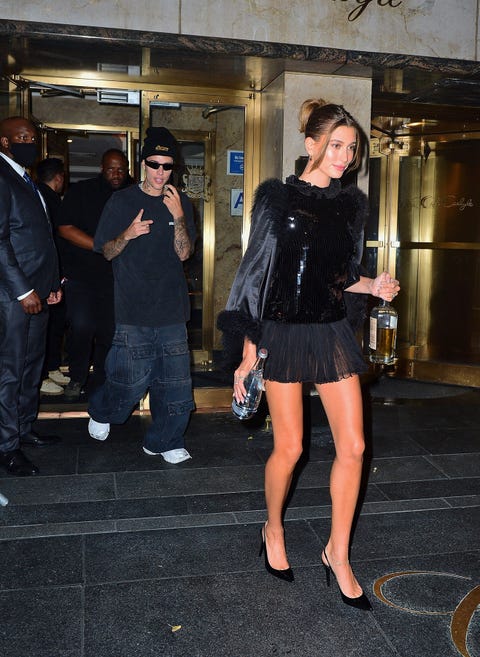 Hailey showed off some leg in a black tulle mini skirt and black sling back pumps. Sequins, satin, and faux fur made up her top, and it wasn't as chaotic as it sounds! It was actually super cute on the supermodel! But like, what isn't? Hailey completed the look with a sleek pony with two tendrils gently framing her face.
JB rocked a black beanie from his fashion line Drew House and was giving biiig 2007 Soulja Boy energy in his oversized jeans that had a looot of pockets, knowing good and well he don't carry his own stuff. Black sunnies, a tucked iced-out chain necklace, and dad sneakers were the finishing touches on Justin's after party look.
Soulja Boy himself even signed off on Justin's look, commenting on the Biebs' Instagram pic from the evening with, "🔥🔥🔥🔥". LOL, real recognize real I guess.
https://www.instagram.com/p/CTz-cYNlPIl/?utm_source=ig_embed&utm_campaign=loading
A post shared by Justin Bieber (@justinbieber)
Hailey was definitely ready for the turn up with not one, but TWO bottles in her hands. One seemed to be a bottle of tequila, possibly her pal Kendall Jenner's 818, and the other a bottle of water…a ~responsible~ turn up, if you will. Honestly, there's no better way to end such a busy weekend. Cheers!
Source: Read Full Article