After calling 'The Wolf of Wall Street' actor 'hot,' the host of 'The Drew Barrymore Show' thanks him for always having been 'the pioneer' of saving 'our earth.'
AceShowbiz –Drew Barrymore seemed not to be hiding the fact that she is Leonardo DiCaprio's fan. In the "Titanic" actor's latest Instagram post, the host of "The Drew Barrymore Show" publicly flirts with him by calling him "hot."
"You should be the only hot one, and not our planet!" the 46-year-old actress dropped the comment on Tuesday, July 13 in "The Wolf of Wall Street" actor's post about climate change. Though the Oscar-winning actor didn't reply to the actress' remarks, plenty of other fans encouraged her. "Shoot your shot girl!" wrote one follower.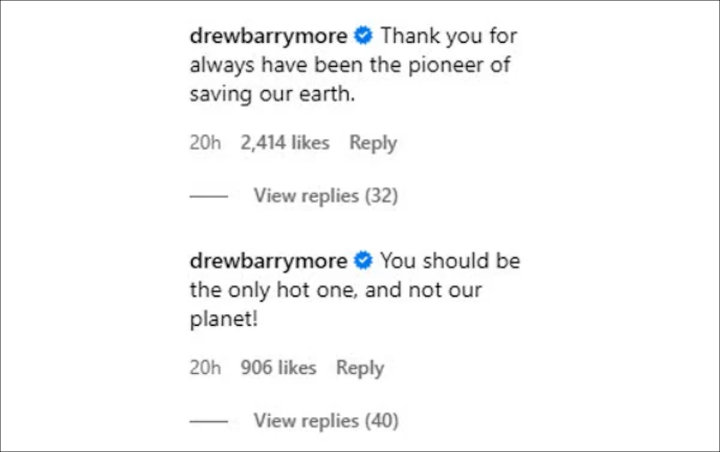 Drew Barrymore dropped flirty comment in Leonardo DiCaprio's latest Instagram post about climate change.
"Drew out here just hitting us with the hard cold facts about this hottie," added another. "I am LIVING for this comment," read another supportive reply. The "Charlie's Angels" actress herself later added another comment, writing, "Thank you for always have been the pioneer of saving our earth."
On the post Drew commented, Leonardo shared an infographic demonstrating the huge difference a 0.5-degree change in the global climate can make in the future of life on Earth. The "Once Upon a Time in Hollywood" actor wrote in the caption, "The difference between 1.5C, 2C or 3-4C average global warming can sound marginal."
"In fact, they represent vastly different scenarios for the future of humanity," the 46-year-old actor continued. "The Revenant" actor added, "The frequency of disasters, the survival of plants and animals, the spread of diseases, the stability of our global climate system and — ultimately — the possibility for humanity to survive on this planet hinge on these few degrees."
Leonardo has long been an outspoken environmental activist. In 1998, he established the Leonardo DiCaprio Foundation, a nonprofit organization that has donated millions of dollars to various environmental causes. He has also been working with an organization called Re:wild to help restore the Galapagos Islands and has produced several documentaries on the effects of climate change.
In 2016, Leonardo also used his highly-anticipated Oscar win as a platform to discuss the urgent need for environmental protection. During his acceptance speech, the actor revealed, "Making 'The Revenant' was about man's relationship to the natural world — the world that we collectively felt in 2015 as the hottest year in recorded history. Our production had to move to the southernmost tip of this planet just to be able to find snow. Climate change is real, it is happening right now, it is the most urgent threat facing our entire species."
Source: Read Full Article