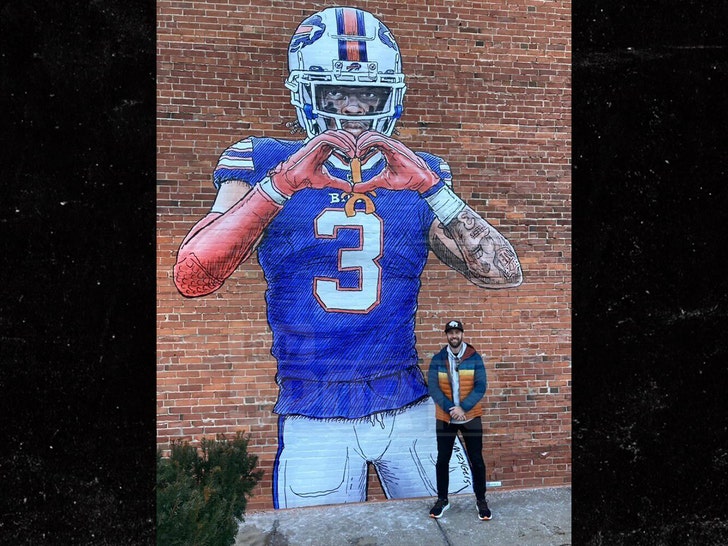 The city of Buffalo has some fresh new artwork … weeks after Damar Hamlin went into cardiac arrest on the football field, a local artist painted a mural of the Bills safety!
Adam Zyglis, the artist, was the mastermind behind the project … and he collaborated with Rory Allen to find the perfect place for the mural. The guys decided on Larkin Square.
FYI, Larkin Square is outside downtown Buffalo … and is about 15 minutes away from Highmark Stadium, where the Bills play their home games.
Adam, an editorial cartoonist at the Buffalo News, tells us the inspiration for the mural was born when he heard 24-year-old Hamlin was being released from the hospital.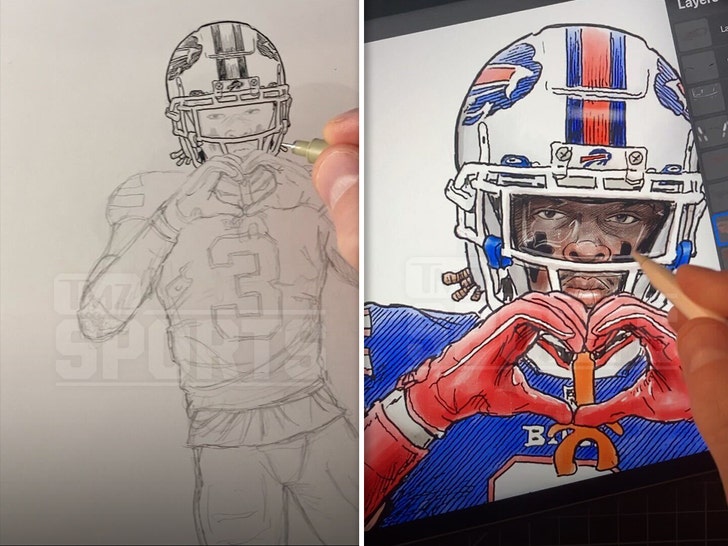 "I completed the illustration late last week after reading news of Damar Hamlin returning to Buffalo and coming home," Adam told us. "That moment of tragedy united the country across team allegiances and party lines."
He continued … "It was a human moment, and his recovery was an illustration of Buffalo's strength, love, and resiliency. As the coach said, it was much bigger than football."
The 17-foot-tall illustration, which shows Damar in his Bills uniform making a heart gesture with his hands, was hand-drawn by Adam and took 4-5 hours to create and color.
The mural was installed on Monday, and once Damar saw the sick artwork on social media, he tweeted, "Where is this?" with a heart emoji and two fire emojis.
Of course, Damar hasn't returned to the field since being released from a Buffalo hospital last week … however, Hamlin did visit his teammates at the facility over the weekend.
Hamlin supported his squad as he watched them defeat the Dolphins in the Wild-Card round … and will be cheering for the Bills in the divisional round when they play the Bengals.
🫶🫶🫶
Source: Read Full Article