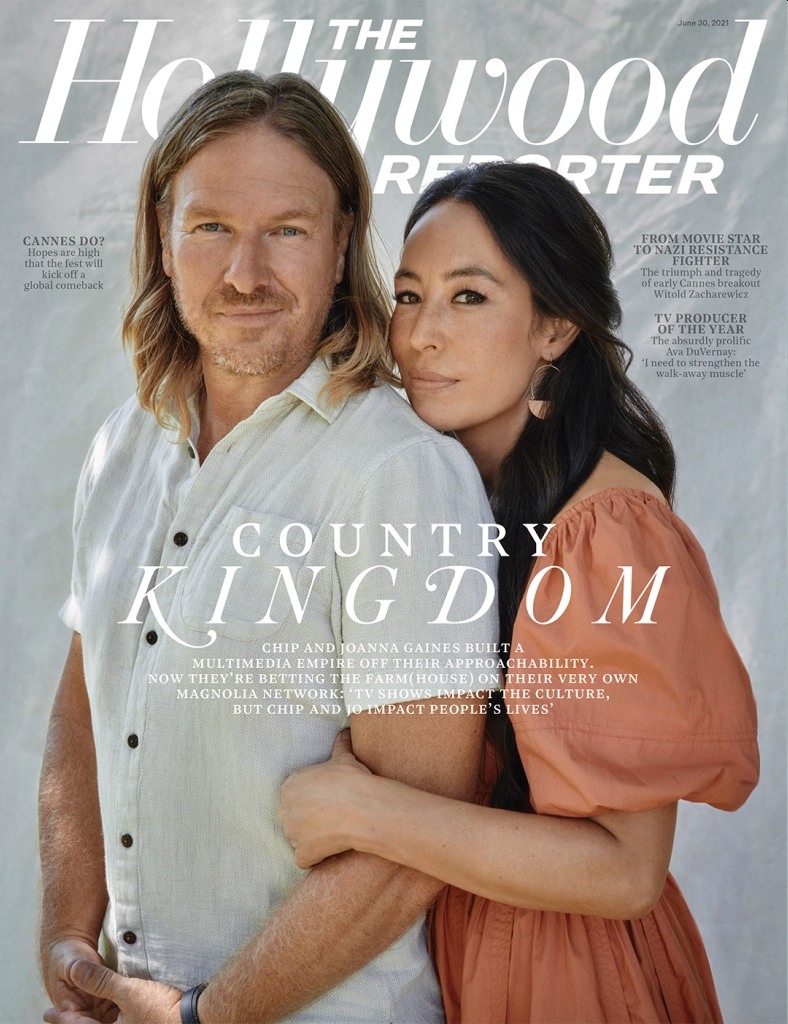 Chip and Joanna Gaines said goodbye to their massively successful HGTV show Fixer Upper in 2017. Looking back, I think the workload was definitely the biggest reason for ending the show, even though there were tons of conspiracies at the time that it involved other, shadier reasons. Joanna got pregnant with their fifth child and their Magnolia-brand was growing by leaps and bounds in Waco, Texas. So they took a huge gamble that they were, in fact, bigger than HGTV. They stayed in Waco and wouldn't you know, Hollywood came to them. They now have a huge production deal with Discovery+ for the Magnolia Network. That's why they're on the cover of the Hollywood Reporter – they're re-introducing themselves not just as on-camera talent, but as producers who care about developing new shows and new TV personalities. Some interesting highlights from this THR cover story:
They got burned out on Fixer Upper: "We realized we didn't necessarily love that side of the camera, and that part became a full-time job," says Joanna. "We've got a big family. We've got a business. The show ended up where we had to constantly be feeding it."

Everyone wanted them: When Fixer Upper wrapped, Chip and Joanna largely ignored Hollywood's calls as they took a year off to grow their family and the Magnolia brand. They began serious discussions in summer 2018. Emissaries from both coasts flew to Waco's modest airport and pled their case. The Gaineses won't name names, but Apple TV+, A+E Networks and High Noon parent company ITV America all made serious overtures, according to multiple sources, with the ultimate decision coming down to a choice between Netflix and Discovery. A sticking point with Netflix was that Chip and Joanna weren't ready to be back on camera.

The rumors of their anti-LGBTQ & possibly racist vibes: Same-sex couples never being featured on the original Fixer Upper came into sharper focus in 2016 when the Gaineses filmed a conversation with a local pastor who has openly denounced LGBTQ rights. In May, The Dallas Morning News drew attention to Chip's sister, whose campaign for the school board in suburban Fort Worth received a $1,000 donation from the couple months before she came out against teaching critical race theory, a lighting rod issue in the state. The Gaineses didn't comment on either matter. "Sometimes I'm like, 'Can I just make a statement?' " Joanna says, tearing up a little. "The accusations that get thrown at you, like you're a racist or you don't like people in the LGBTQ community, that's the stuff that really eats my lunch — because it's so far from who we really are. That's the stuff that keeps me up."

Their new shows are somewhat diverse: Many series star people of color and, on launch day, there'll be at least one show with openly queer talent at its center. "As an American white male, it's hard to be perfectly diverse," says Chip. "In our own company, we've got nearly 700 employees, and one of our biggest passions is making this group represent all people."

The Gaines family is mixed-race. After a year of forced introspection for many, it's a part of their identity they now give more attention. In June 2020, with the country still on edge from the police killing of George Floyd, Chip sought out an appearance on activist and former NFL linebacker Emmanuel Acho's digital series Uncomfortable Conversations With a Black Man. Joined by Joanna and their children, they discussed the disadvantages to raising their family to be color-blind in a society still dogged by racism.

Joanna on her South Korean mom: More recently, Joanna has been vocal about her own lineage as violence against Asian Americans lingers in the news cycle but admits she's almost never asked about it. Her mother, Nan, emigrated from Seoul, South Korea, in 1972. Growing up in Kansas and Texas, Joanna recalls the harassment they endured. "My mom is so tough, but with one look or comment, I would just see her shut down," she says. "That's why she didn't know how to help me when I would come home and say, 'So-and-so called me this.' It was also happening to her. Growing up as half-Asian, half-Caucasian, I get what that feels like to not be accepted and to not be loved. That's the last thing I want anyone to ever feel."
[From THR]
I remember covering the criticisms about Joanna and Chip when Fixer Upper was on and they barely featured any people of color as home-buyers and they never featured any LGBTQ peeps. I get that the criticisms stung, but… those criticisms happened for years and they never changed the vibe of Fixer Upper! Would it have been that hard to, I don't know, renovate a house for a gay couple? If they think those criticisms stung, imagine what it was like for LGBTQ fans of Fixer Upper to never see themselves represented on camera? Anyway, I'm glad that they're trying to update their vibe to be more representative and inclusive. Better late than never.
— The Hollywood Reporter (@THR) June 30, 2021
Cover & photo courtesy of THR.
Source: Read Full Article