The 'I Like It' raptress is spotted liking a tweet about lawsuit shortly after it's revealed that the Trinidadian femcee launched legal action against a blogger who called her a 'cokehead.'
AceShowbiz –Cardi B has had enough. The "I Like It" raptress unveiled that people want to make her out to be a "villain so bad" after she was caught liking a cryptic tweet in the wake of Nicki Minaj suing a blogger who called her a "cokehead."
On Wednesday, September 14, the "Bodak Yellow" artist was caught liking a Twitter post that read, "Now everybody wanna start suing people now… it was just a problem when Cardi was suing ppl." Shortly after liking the shady post, the 29-year-old rap star received criticism from her rival's fans, Barbz.
In response, Cardi tweeted, "Lmaaaaaoooooooooooooooo I get blame for everything." She then wrote via Instagram, "I don't care what y'all say cause I bet the same people commenting were the same ones calling me weak, sensitive, and saying I needed tougher skin when a woman lied on my health, father, my mother, and harassed all my friends and family."
"THIS is what I was fighting for while others laughed. Should we also talk about how people had their publicists verifying those platforms that did these things to me? Oh, Kyle let's start posting all the shady s**t people been liking about me and Megan too," Cardi continued. "Love ya! Byeeeeee."
Cardi later echoed the tweet she liked on Twitter afterward, writing, "It's cool when they do it, it's a problem when I do it." In a following post, she wrote, "They want to make me a villain so bad …but I'll be that !!!!!"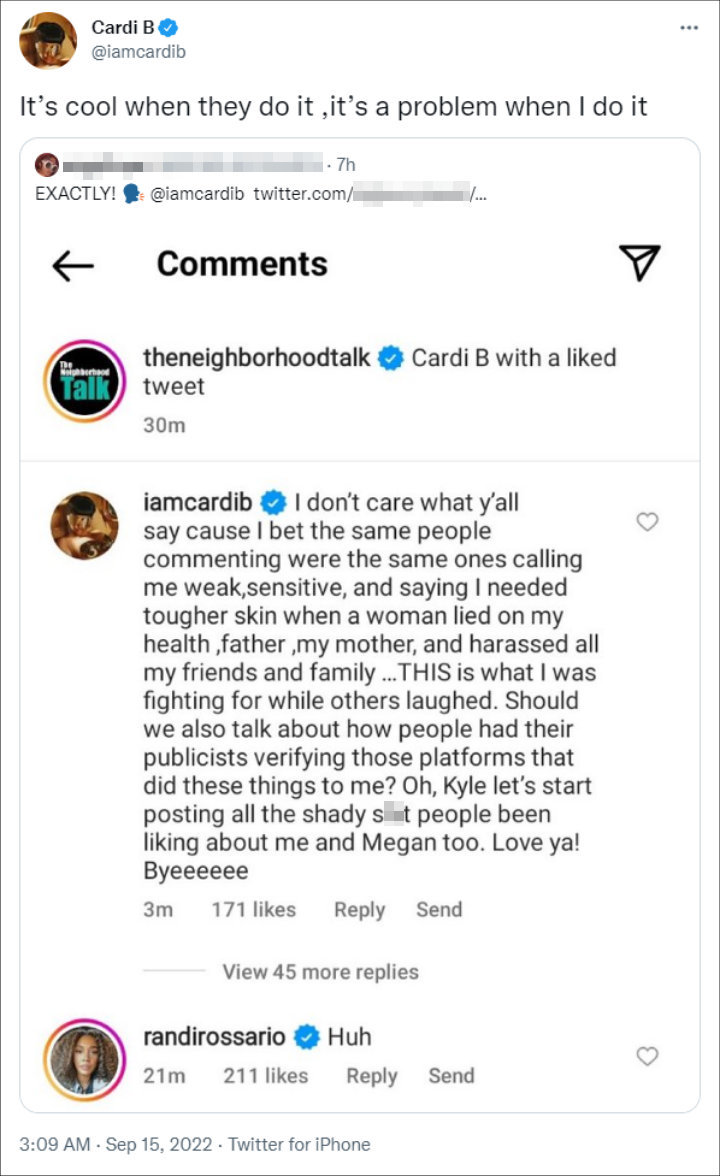 Cardi B reacted after being exposed for liking a cryptic tweet in the wake of Nicki Minaj suing a blogger.
One fan then defended her as tweeting, "People been liking shady tweets, following shady people who come for Cardi, Posting shady tweets about Cardi. No post from the blogs about it. As soon as Cardi likes something which is facts, they wanna share it and make it look like Cardi is being shady out of the blue.Weird ish." In response, the Grammy-winning artist wrote, "That's the plot tho…..bait till i respond to make ME look like the crazy one while hands are being hidden…They do that to me ALL THE TIME …I'm just playing their game now."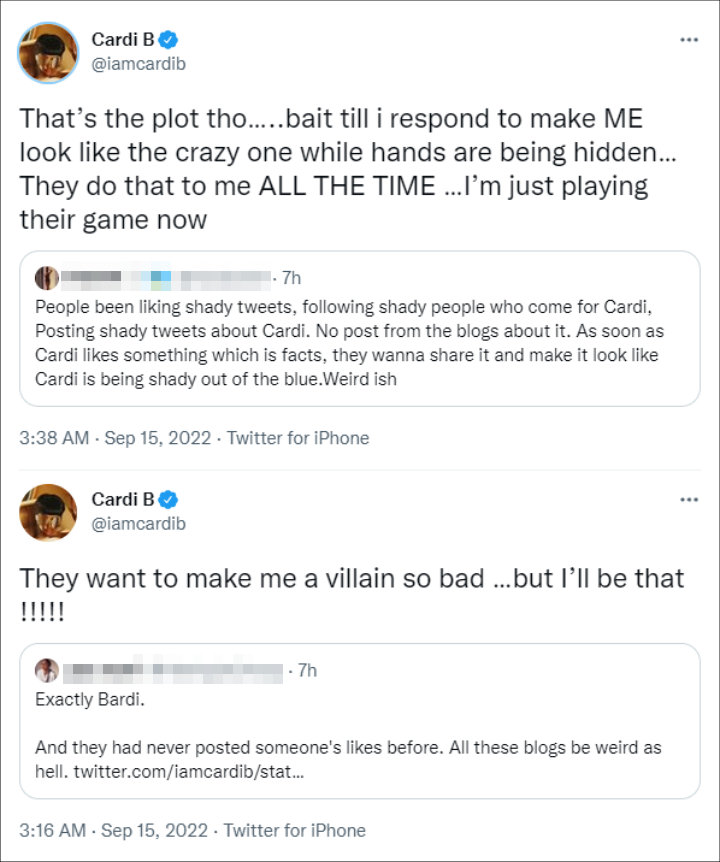 Cardi B said she'll be the 'villain' now.
Cardi's social media posts came a few hours after it's revealed that Nicki launched legal action against blogger Marley Green a.k.a. Nosey Heaux, who called her a "cokehead" in a video shared on Twitter.
Nicki filed the $75,000 defamation lawsuit in federal court in New York. The 39-year-old Trinidadian femcee alleged that Nosey also posted "vile comments" about her 1-year-old son Papa Bear, whom she shares with husband Kenneth Petty.
Speaking about the case, Nicki's lawyer Judd Burstein said, "Marley Green is a disgrace, someone so lacking in fundamental decency that she has posted vile comments about Nicki's one-year-old son." Judd added, "When this case is over, she will no longer be permitted to use the name 'Nosey Heaux' because we will take her trademark from her when she does not have enough money to pay the judgment."
"Anyone else who spreads lies about Nicki will suffer a similar fate. My marching orders are to aggressively sue anyone with a media or social media following who damages her with intentional lies," the lawyer emphasized. "Eventually, the lesson will be learned."
Source: Read Full Article