Britney's former agent, who was engaged to the pop singer before their split in 2013, denies that he is gay and claims that the coming-out post is a prank pulled by his 'gay guy friend.'
AceShowbiz –Britney Spears' ex Jason Trawick isn't gay, despite a recent social media post suggesting otherwise. The talent manager, who was once engaged to the pop superstar, has shut down a recent coming-out message shared on his Instagram Story, calling it a prank.
"Ha no, it wasn't me," Jason told TMZ about the Story, before explaining how it was posted on his account, "this is what happens when you leave your phone unlocked and unattended at brunch with a gay guy friend that thinks he's being funny and cute. I am not gay."
The post in question featured a photo of a living room with a portrait of Britney being displayed in the room, leaning on the wall. A text over it read, "At my boyfriend apartment. Out and proud. Finally living my true self. This is me people."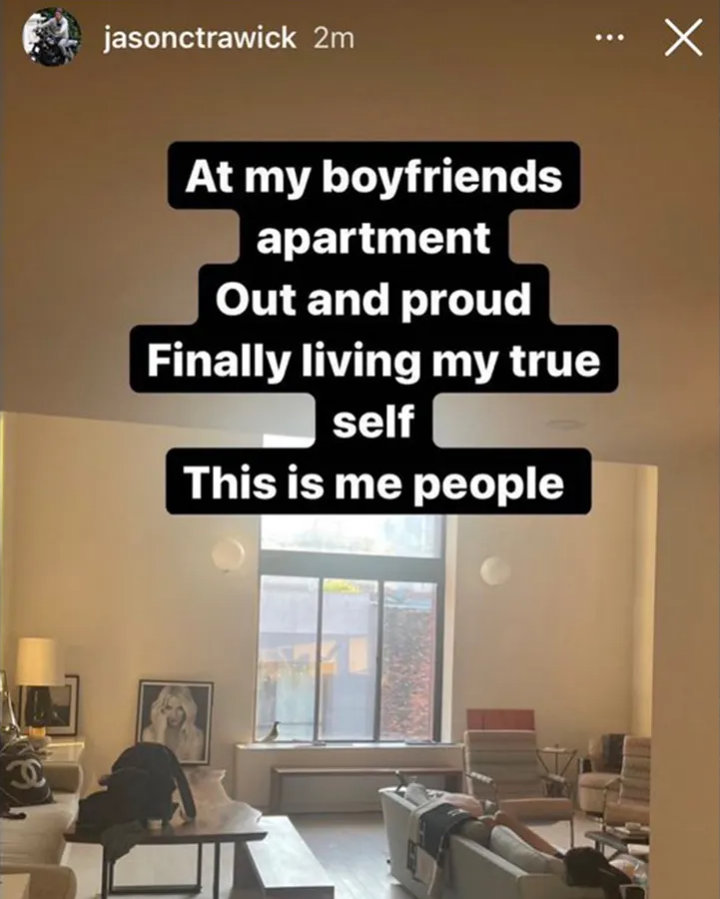 A fake coming-out post was shared via Jason Trawick's Instagram Story.
Jason, who was Britney's former agent, was first romantically linked to the "Lucky" singer in 2009. After confirming their relationship, they decided to end their professional relationship to focus on their personal relationship.
They became engaged in December 2011 and Jason was appointed as a co-conservator of her personal affairs alongside Britney's father Jamie Spears. However, in 2013, the couple announced their split, with Jason stepping down as her co-conservator.
In 2021, rumors spread claiming the then-couple had secretly married and then divorced in 2012 after records showing her conservatorship put a lawyer on retainer shortly before their breakup. Jason later shot down the marriage claim, telling his show business presenter pal Billy Bush, "I believe you would have known if I was married."
Following the purported coming-out post, social media users were quick to speculate that Britney's engagement to Jason was just a ruse to get her out of the conservatorship. The "Hold Me Closer" hitmaker, however, did not get her full freedom back until November last year, when a judge terminated the conservatorship.
Source: Read Full Article