In her social media post, the 'Anna Wintour' raptress also urges the 'Renaissance' artist to 'take a break' as she looks 'obviously sad' with her husband Jay-Z.
AceShowbiz –Azealia Banks is sharing her opinions on Kim Kardashian and Beyonce Knowles only to be mocked. The "Anna Wintour" raptress has been slammed by online critics after saying that "The Kardashians" star looks "happier" and "healthier" than Queen Bey.
On Monday, September 5, the "212" femcee turned to her Instagram Story to offer her two cents. "You have to give Kim her props for making to 40 still looking better than all of her contemporaries and about 88% of young women," she began. "I never in a million years thought Kim K would look healthier, more alert, more sober and overall happier and in control of her s**t than Beyonce."
In a follow-up post, Azealia further explained why she believed Kim looked better than Bey. "Hate comparing but Bey really dropped the ball on the aspirational pieces," the "Count Contessa" raptress penned. She further alleged that the pop star isn't happy with her marriage to Jay-Z as writing, "She looks sooooo obviously sad with Jay-Z. And watching that energy drain her year after year just turns me off from how powerful she seemed to me as a kid."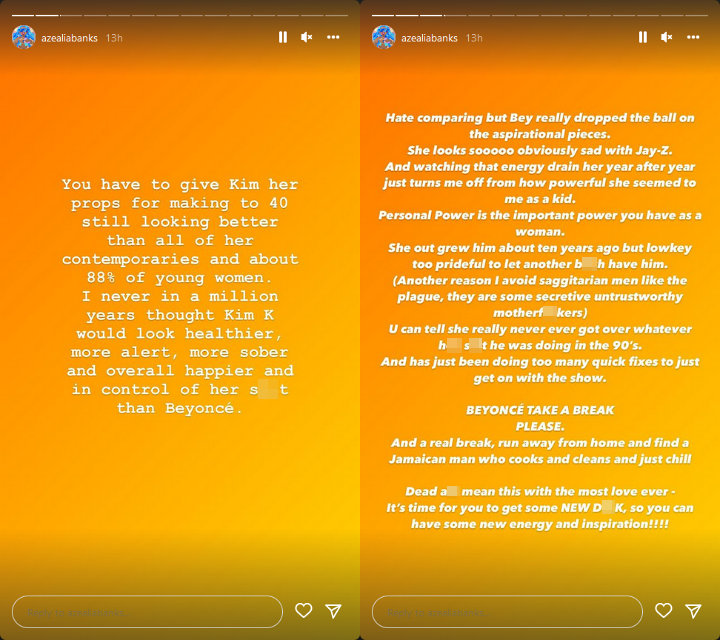 Azaelia Banks compared Beyonce to Kim Kardashian on Instagram.
"Personal Power is the important power you have as a woman," Azealia continued. "She out grew him about ten years ago but lowkey too prideful to let another b***h have him. (Another reason I avoid saggitarian men like the plague, they are some secretive untrustworthy motherf**kers)."
Azealia further stated that "u can tell she really never ever got over whatever h*e s**t he was doing in the 90's. And has just been doing too many quick fixes to just get on with the show." She then urged, "BEYONCE TAKE A BREAK PLEASE."
"And a real break, run away from home and find a Jamaican man who cooks and cleans and just chill," Azealia pointed out. She then concluded her post as saying, "Dead a** man this with the most love ever- It's time for you to get some NEW D**K, so you can have some new energy and inspiration!!!!"
Upon learning of Azealia's wild social media posts, Beyhive railed behind their idol, accusing Azealia of seeking attention. One person commented on Instagram, "Seeking attention again," while another added, "Azelia just looks for clout by coming for Beyonce."
"Healthier and more in control of her sh..! Please Bey doesn't have an ex going on rant every other day. Bey ain't no missing no meals hunty!" someone else pointed out. Someone else chimed in, "First of all.. Kim has had multiple surgeries and photoshops her pictures… so no she doesn't," seemingly referring to Kim's recent Photoshop fail.
A separate person opined, "She's been on a rampage ever since 'Renaissance' came out because she feels Beyonce stole her sound. Bey is the definition of unbothered and Queen mind her business." An Instagram user even branded Azealia "f**kin annoying."
Source: Read Full Article