The Tampa Bay Buccaneers wide receiver's lawyer, Sean Burstyn, says his client 'continues to support the vaccine' after he's suspended without pay for the next three games for violating the NFL-NFLPA COVID-19 protocols.
AceShowbiz –Antonio Brown has been suspended for three games by the NFL and NFLPA for allegedly faking his COVID-19 vaccination status. Upon learning the news, the Tampa Bay Buccaneers wide receiver's lawyer Sean Burstyn insisted that his client is "vaccinated."
"Mr. Brown is vaccinated and continues to support the vaccine for any person for whom it is appropriate," Sean stated shortly after the NFL announced the 33-year-old athlete was suspended from the following games. "The NFL made its determination and, instead of going through the drawn out and distracting process of challenging the outcome, Mr. Brown wrapped this up promptly."
Sean continued to explain that Antonio "will make this most of this time by treating his ankle injury." The attorney concluded, "Mr. Brown will be motivated, well rested, and in the best shape of his life when he returns in [W]eek 16."
On Thursday, December 2, the NFL announced the suspension of three players for violating COVID-19 protocols, including Mike Edwards and John Franklin III. "Tampa Bay's Antonio Brown and Mike Edwards have each been suspended without pay for the next three games," the NFL's announcement read.
"Free agent John Franklin III, if signed by a club, is also ineligible to play in the next three games," the statement continued. "All three players have accepted the discipline and waived their right of appeal. The suspensions are effective immediately."
NFL and NFLPA went on to stress, "The health and safety of players and personnel is our top priority." Their statement added, "The protocols were jointly developed working with our respective experts to ensure that we are practicing and playing football as safely as possible during the ongoing pandemic."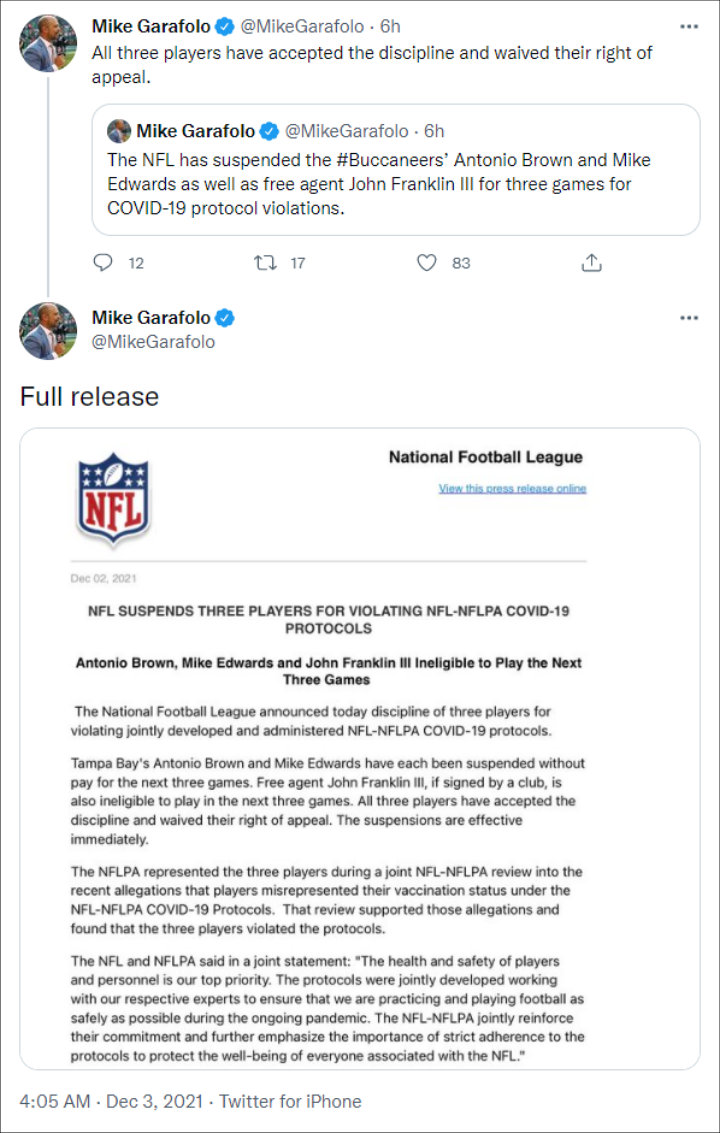 NFL and NFLPA announced Antonio Brown's suspension after he violated COVID-19 protocols.
NFL Network's Ian Rapoport reported that the Buccaneers were not fined and assisted the league in its investigation. The team released a statement shortly after the announcement of the suspensions.
"We appreciate the league's timely handling of this matter and recognize the importance of the health and safety protocols that have been established," the statement read. "We will continue to implement all league COVID-19 protocols."
Back in November, Antonio was accused by a former live-in chef, Steven Ruiz, of obtaining a fake Johnson & Johnson vaccination card. After the controversy, Antonio was ruled out of the Bucs' "Monday Night Football" matchup.
Source: Read Full Article