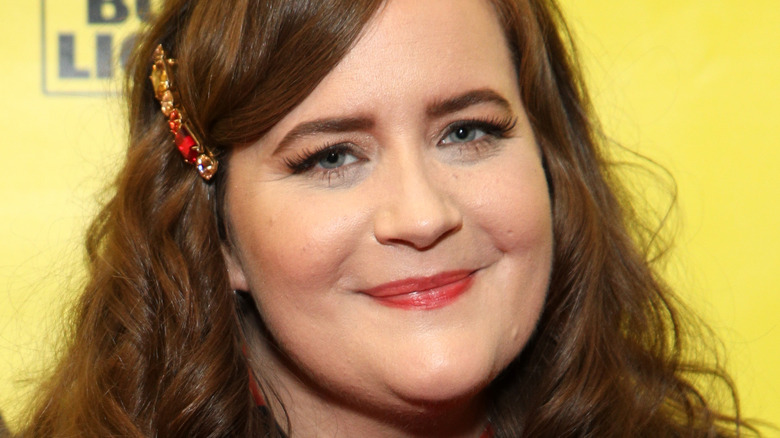 After Aidy Bryant stepped onto the set of "Saturday Night Live" in 2012, everybody started to remember her name, and she soon accrued a stunning $4 million net worth, according to Celebrity Net Worth. The successful series was this comedian's claim to fame, and she has since booked roles in movies, secured credit as an executive producer, and even entered the fashion industry. Throughout the years, Bryant has surrounded herself with some powerful stars, too. When she once had to share her dressing room with Taylor Swift, "I was like, 'Yeah, this is my life now,'" she admitted during a behind-the-scenes video. "Which I still do all the time."
Bryant has certainly worked her way up in show business, and she shows no signs of slowing down anytime soon as an actress, writer, producer, and fashion designer. Here's what has helped make up her jaw-dropping net worth over the years.
Aidy Bryant's role on Saturday Night Live proved her worth in the entertainment industry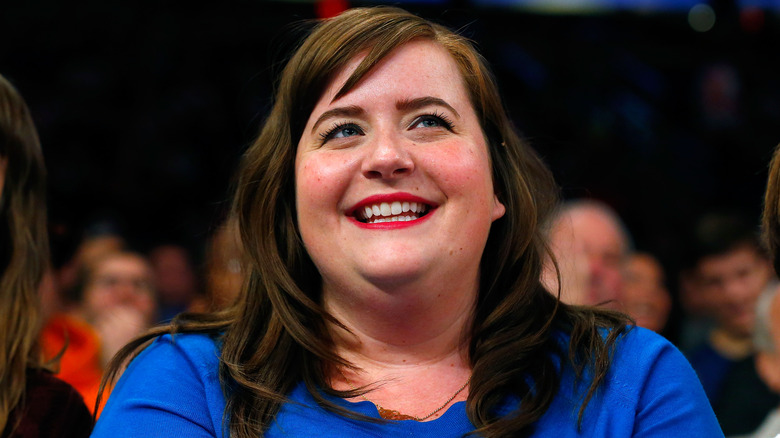 Growing up, Aidy Bryant was a big fan of "Saturday Night Live," and it was comedian Molly Shannon's confidence that inspired her each weekend when she tuned in. "She just didn't seem embarrassed by anything," Bryant said on "Jake's Takes." "And she was, like, going through walls, and her underwear was showing, and she was so fearless and bold, and I was like, 'That's how I want to be 100%.'" Yet, getting there wasn't so easy.
Bryant had years of stand-up comedy under her belt, but impressing casting directors was a completely different experience. However, if Shannon could do it, so could she — and she was going to go after her dream on her own terms. "The thing that I kept telling myself is, write what you like and perform what you like because if you do get hired, that's what you know how to do," Bryant told Backstage. "And if you don't get hired, at least you did what you love. You didn't try to bend yourself into a pretzel to be something you think they want." In the end, she was exactly what "SNL" wanted.
At age 25, Bryant was one of the youngest comedians to ever be cast on the show. She was making a pretty penny, too. According to Celebrity Net Worth, she began with a $147,000 salary per season. Today, it's been estimated that Bryant makes somewhere between $315,000 and $525,000.
She wasn't receiving roles she wanted, so she wrote her own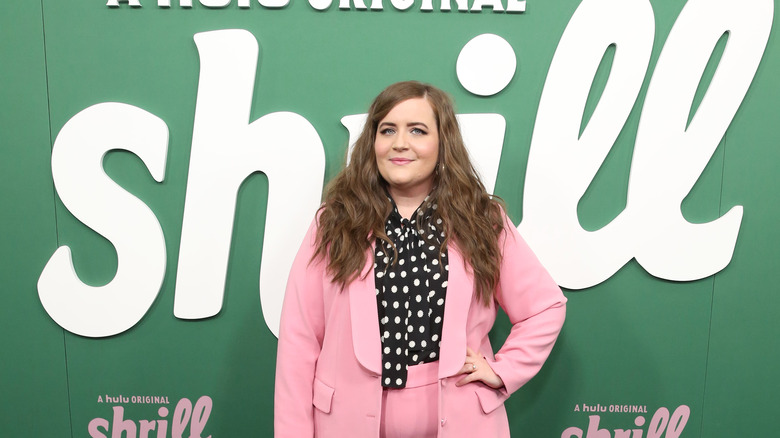 Though Aidy Bryant has had some pretty amazing roles, she's had some pretty awful offers too. In fact, many have been extremely offensive. She even revealed on "Saturday Night Live" that she was once asked to play a character called "fat, ugly prison wife." Bryant told Ad Week, "Those were some of the moments where I was like, 'Is this what it is in Hollywood?'" She added, "I think I might have to write for myself." So she did.
In 2019, Bryant's series "Shrill" graced the small screen for the very first time, premiering on Hulu. Based on a book under the same name, the story follows an overweight woman who wants to make a change — to her life, not to how she looks. "It's something I always wanted to see on TV and kind of the show I wish I had when I was 14 years old," Bryant told iNews, so it only made sense that she would play the lead role herself.
While the show follows the book, Bryant's own life influenced a lot of what we see on the screen. Her character Annie's home "was based on the places where I lived when I didn't have any money," she admitted to Architectural Digest. Now that the comedian has made herself a triple threat with the series — actress, writer, and executive producer – it seems safe to say that she's truly made her mark on the entertainment industry.
Aidy Bryant's home cost a pretty penny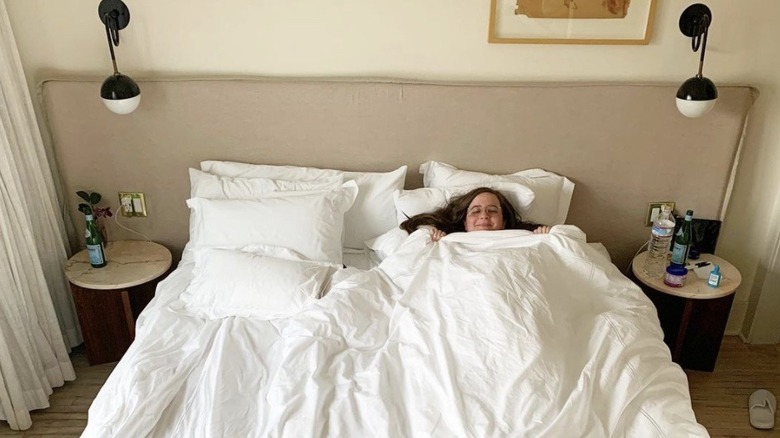 Living in New York City isn't exactly affordable, but if you're a television star like Aidy Bryant, it becomes a whole lot easier. In 2016, she and her husband, comedian Conner O'Malley, purchased their very own space in the Big Apple. According to Variety, it's a 850-square-foot apartment in the Chelsea neighborhood worth nearly $1 million.
Though it's not large, the one-bedroom, one-bathroom space is all this couple needs. In fact, it's in their single bedroom that Bryant gets most of her writing done. "I feel like when I'm being most creative and kind of on my own terms, it's in my bedroom," she told Oprah Daily. "I'll get in bed, put two pillows behind me, put two pillows on my lap, and place my laptop on it. It's like my own little fort where I get to work, look out the window, and do my thing." We're sure the view certainly doesn't hurt either.
Aidy Bryant designed her own clothing line to reinvent the fashion industry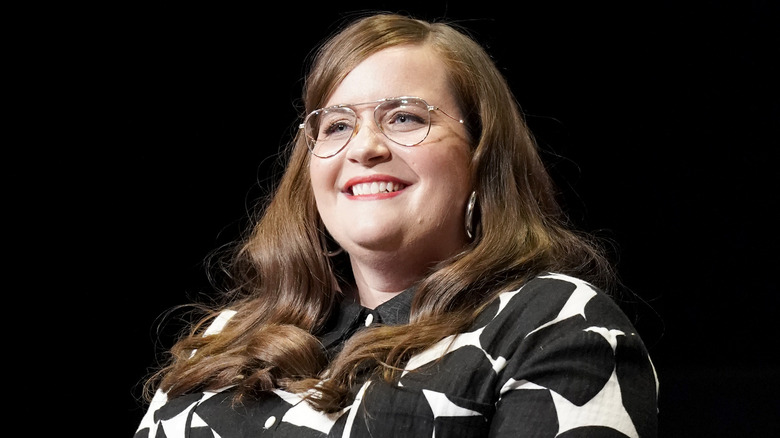 As if Aidy Bryant hasn't been busy enough starring on "Saturday Night Live" and writing her own television series too, in 2019, she decided to design her own clothing line. "I always loved clothes … but I always felt like there wasn't quite exactly what I wanted out there," Bryant told Refinery29. She wanted to make flattering clothing available to everyone, and her time on TV was what inspired her to do it.
When making public appearances and while starring on "Shrill," Bryant was getting a lot of messages asking where she got her clothing. It was then that the comedian began to realize she had access to something many women her size didn't — professional stylists and tailors who help make her look perfect on TV. She then decided to partner with one of her own stylists, Remy Pearce, to launch the clothing line Pauline.
In 2019, the two released a dress with three different color and pattern options specifically available in sizes 12 through 28. The $175 pieces were all dressy enough to wear out on a date or simple enough to "let your hair be messy, throw on some shoes, and you're ready to go," Bryant said. Helping other women feel good about their bodies was a major influence on the brand, and women clearly loved Bryant's looks. As of this writing, the entire collection is completely sold out.
The SNL star has a major partnership with Old Navy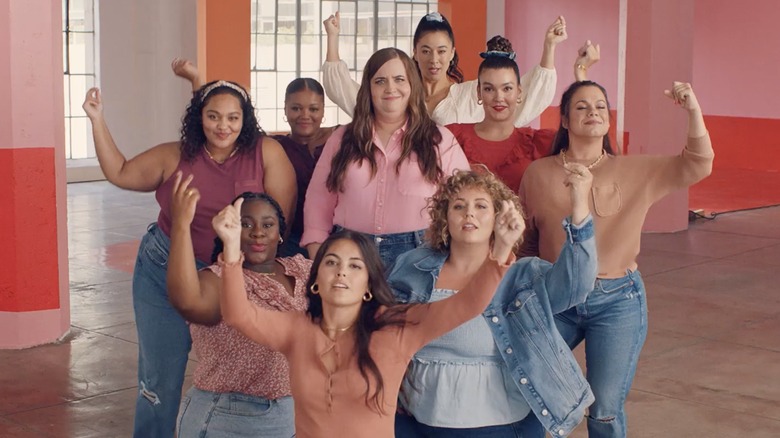 Finding clothing that fits has not been an enjoyable experience for Aidy Bryant. "It's just not as welcoming for us to get cool clothes that are like equal in glamour, in style to what, I am going to say, 'small size' co-stars get to wear," she once admitted to People. Yet, in August 2021, Bryant found herself starring in her very first clothing commercial, and fans could see her face on more than 500 ad placements across the country.
In the Old Navy ad, she's seen as the hilarious comedian we all know and love, but she also can be seen dancing. However, what caught fans' attention even more was the message of "BODEQUALITY." It turns out, Old Navy has been working to completely rebrand their line of women's clothing. In over 1,200 stores, their products are now available in sizes up through size 28 — and size 30 online. None of it is in a special section either. "With this launch, the brand is reimagining the shopping environment in all stores and online to be more size inclusive, giving women everywhere the fashion and experience that they deserve," the company said in a press release. Even online, women can now see clothes on models of various sizes before they purchase. It's a win for women everywhere — and Bryant is the face of it all.
Aidy Bryant is willing to fight for equal pay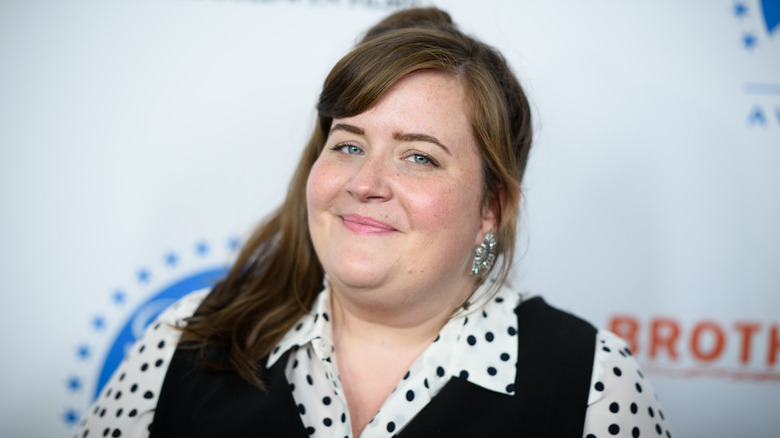 Aidy Bryant hasn't been afraid to publicly try to close the gender pay gap. During "Weekend Update" on "Saturday Night Live" in 2018, she slammed Mark Wahlberg for not stepping up when he found he was making a ton more money than his female co-star Michelle Williams — 99% more, to be exact (via Refinery29)– during re-shoots for the film "All the Money in the World." Eventually, the actor did donate what he made to the Time's Up movement, but "it would be so cool if it didn't take a weeklong public shaming to do the right thing," Bryant said on the show.
As Bryant has been offered many horrible, low-paying roles in the past, she knows firsthand what it's like to be a female in the entertainment industry. "I guess I just understand the impulse of being accommodating, you know? Like, I could have easily been in Michelle Williams' situation," Bryant said. Yet, even despite any moments that were disappointing in her career, the comedian has still found herself with a stunning net worth — and it's all because she has fought hard for it.
Source: Read Full Article